When President Jacob Zuma handed over the first of 49 schools built through the Accelerated School Infrastructure Development Initiative (ASIDI) in the Eastern Cape recently, he signalled government's biggest step yet in eliminating mud schools.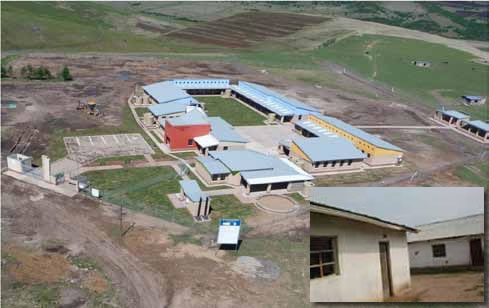 Vuk'uzenzele visited some of the newly built schools in the rural parts of Eastern Cape and spoke to school authorities about how these schools benefit communities.
The ASIDI is the first programme of its kind to bring together government and private financial institutions in a deal that aims to get rid of all mud schools and inappropriate structures by 2015.
With a budget of more than R8.2 billion over the next three years, officials say the programme will replace 496 mud schools, pro- vide water and sanitation to 1 257 schools, and electricity to 878 schools. Through the ASIDI, government plans to spend R5.6 billion in the Eastern Cape alone.
Once completed, each school will have an administration block, a nutrition tuck shop, a resource centre that includes a multipurpose classroom, a multimedia centre with a library and communication facilities, a science laboratory and several classrooms.One of the problems associated with mud schools is a high dropout rate that school authorities say is evident particularly during winter when learners simply stay away from school.
At Mphathiswa Senior Primary, one of the new schools Vuk'uzenzele visited, enrolment for this year has already increased by more than 50 per cent following a drop in recent years.
Principal Pathiwe Mvelembo says the school had been flooded with applications from learners since President Zuma officially opened the new school in October last year.
It is situated in the dusty district of Libode, about 25km from Mthatha. Locals say a lack of resources had forced learners to attend classes in mud structures and under trees for many years.
The new school building has 10 modern classrooms, a computer and science laboratory, a kitchen, dedicated children's play area and a spacious administration building that also hosts the principal's office. It's a huge improvement from the rundown three-roomed mud structure teachers used since moving from a nearby church building more than 10 years ago.
"We feel right now things are going to change. We are very fortunate because now that we have a new structure, learners are going to gather in big numbers here because we are going to meet the needs of today, particularly with technology," says Mvelembo.
It's a view shared across the province where the ASIDI schools are being introduced.
"We are very happy with the new structures because they are permanent. Mud structures were making conditions very bad. This is a rural school and our financial position as a community would not allow us to build a new school for our children," says Roney Nombanga, principal at Tabata Senior Primary School, another ASIDI school.
Both schools have received 27 laptops for their computer laboratories where learners will be taught basic computer skills.
The provincial education department says there were 939 mud structure schools in the Eastern Cape in 2003/04. It dropped to 436 by 2008/09, and then to 395 by the start of the ASIDI programme, which identified the need for over 3 000 classrooms.
A school infrastructure report by the national Department of Education also points to an improving school infrastructure situation.
Out of 24 793 schools, about 21 249 have a supply of electricity, 22 391 have a supply of water and 23 522 have fencing that includes wire, palisade or brick. More than 5 252 schools have libraries, 3 772 have laboratories, while 5756 have computer centres and 17 per cent of schools have sports facilities.