In 2005 retired school principal Boy John Mokoena and his wife Eunice ran a thriving business, providing high quality interior and exterior gamazine wall coating to properties in and around Nelspruit. Business was good but they needed help to grow and service their ever-increasing clientele.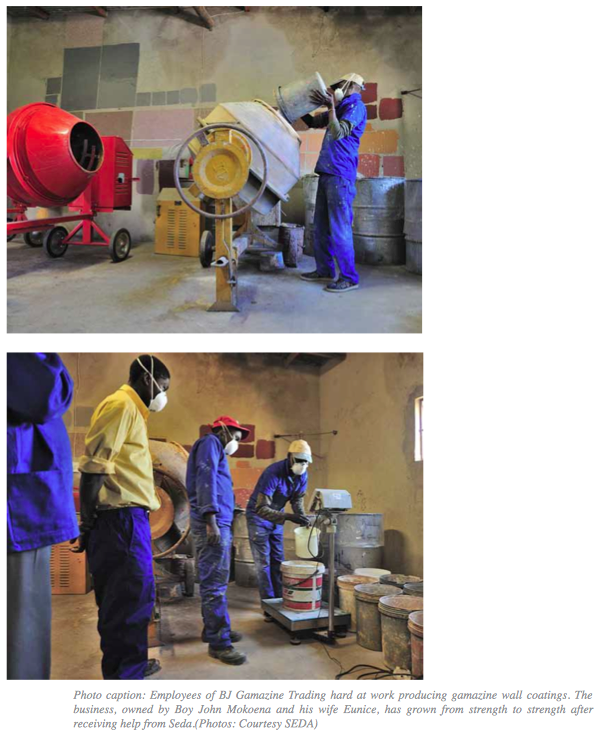 With help from the Small Enterprise Development Agency (Seda), the couple was able to double their gamazine coating business' turnover in just one year. Seda gave BJ Gamazine Trading support and business training in financial, marketing, operations and human-resources (HR) management.
Seda also helped the Nelspruit business to receive ISO 9000: 2008 training. This is training on quality management systems designed by the International Organisation for Standardisation to help organisations ensure that they meet the needs of their customers. The agency also assisted them to attend various trade shows.
Exporting to Senegal
Today the couple supplies property owners and construction firms across the region including Equatorial Guinea and Senegal. They employ 26 people and are training 60 others to meet contract orders.
The Mokoenas are among 15 391 business owners and would-be entrepreneurs that Seda assisted in the last financial year, while 1 845 entrepreneurs received support from the agency's 32 incubators.
Thousands more were assisted by other government agencies, which directed millions of rands to small businesses last year in the form of loans, grants and non-financial support. These include 1 718 entrepreneurs assisted by the Technology Innovation Agency (TIA) through its 13 technology stations, three tooling stations and 15 platforms. Also, 2 276 youth received business consultancy vouchers and business opportunities support from the National Youth Development Agency (NYDA). A further 1 578 youth received mentorship and 17 288 attended entrepreneurship awareness programmes.
Funding small business
National government agencies including Khula Enterprises, the National Empowerment Fund (NEF), the SA Micro-fiinance Apex Fund (Samaf) and the NYDA in 2011/12 granted more than 73 000 micro loans and loans worth over R272 million to small and micro enterprises, most of them black-owned firms.
Over 2 400 small, medium and micro enterprises also received more than R586.6 million in grants from the Department of Trade and Indus- try to help them with exporting and marketing, as well as research and development (R&D) and improving their manufacturing practices. Millions more in finance was channelled to small businesses through the Industrial Development Corporation (IDC), as well as the development finance institutions of various provincial governments.
When it comes to finance, Khula, the NEF and the NYDA together lent R200.5 million to small businesses, while R71.6 million from Samaf and the NYDA went to micro enterprises.
In April, Samaf and Khula merged to form the Small Enterprise Funding Agency (Sefa) which falls under the IDC. The NEF's Imbewu Fund, which lends to black-owned small businesses disbursed R105 million to 40 small businesses. The Imbewu Fund has allocated R50 million to help fund black entrepreneurs looking to acquire Engen Service Stations. This will help lift the number of black-owned outlets from 39 per cent to 45 per cent by 2016.
Over the last five years, the NEF also spent R14.7 million on mentorship support to beneficiaries, including R3 million in 2011/12. During the last financial year, the NEF also opened six regional offices to advance its national footprint and will open two more – in the Northern Cape and the North West - in the current financial year.
Creating jobs
Khula, which lends mostly through banks and retail finance intermediaries, which then lend on to small businesses, disbursed 1 617 loans to the value of R84.7 million to small enterprises, which helped create 2 118 jobs. In all, 82 per cent of finance went to black-owned businesses.
Last year, the agency launched pilots for its Khula Direct model in Pretoria, East London and Cape Town. Many are concerned that lending directly to small businesses might push up the number of impairments – reducing the company's stated capital. They argue that financial organisations and banks are more geared to lending, but as of the end of 2011, collections were at 98 per cent, while as at 31 March 2012 there were no write-offs.
Samaf lent R45.6 million – the highest ever – to its network of 16 micro finance institutions and 29 financial service cooperatives, which in turn lent out 62 459 loans. In all, 93 per cent of these loans went to micro entrepreneurs, while the remainder went to individuals for housing improvement and education support needs.
Two thirds of the beneficiaries were rural women, while a further 25 per cent were urban women. In all, the loans helped create 48 000 jobs.
The NYDA lent R36.8 million to business owners – including 9 899 loans totaling R26 million to micro entrepreneurs. This money helped create 9 304 jobs and a further R10.8 million to 14 small businesses, which helped create 68 jobs.
Grants
The Department of Trade and Industry's incentive and innovation grants include:
896 enterprises which benefited from R69 million in Export Market Incentive Assistance grants, which helped support R6.42 billion in export sales.
299 black businesses benefited from R51.1 million in the Black Business Supplier Development Programme grants to help black business owners with marketing and management support.
183 cooperatives received R49 million in Cooperative Incentive Scheme grants to assist cooperatives to buy machinery or equipment.
648 small- and medium-sized manufacturing firms and 158 small firms in the tourism sector accessed the Enterprise Incentive Programme. The grants valued at R251.5 million are expected to help manufacturing firms create over 15 000 jobs and the tourism enterprises a further 1 700.
191 small firms received R93 million in research grants through the Technology and Human Resources for Industry Programme, which allows businesses access research funding by partnering with universities. Most of the projects were in the agriculture, information and communication technology and chemicals sectors.
52 businesses, mostly small firms were able to access grants to assist them in R&D totaling R73 million, through the Support Programme for Industrial Innovation, which is administered by the IDC. Most of the projects were in manufacturing, software and mechanical machinery.
Non-financial assistance
Government also provided millions of rands worth of non-financial support – such as business training and mentoring – to business owners in the last financial year.
While the NEF, Khula, municipalities, metros and provincial and national government departments all provide non-financial support to small business owners, the bulk was disbursed by Seda, the NYDA and TIA.
In the last financial year, 79 570 people visited Seda's 42 branches – up 24 per cent from the 63 916 in 2010/11. Of these Seda is working with 15 391 clients.
The Department of Trade and Industry is on a drive to create new incubators and in recently launched the Incubation Support Programme, which is intended to encourage private sector partnerships with government to foster collaboration between small and big businesses.
Seda aims to increase its number of incubators from the present 32 to 42 by the end of 2012/2013.
Meanwhile, as of 31 March 2012, Seda's SMME Payment Assistance Hotline has helped to facilitate over R300 million in payments from government departments, entities and municipalities since its launch in September 2009 and R59.5 million was recovered in 2011/12.
The agency's Seda Stars business plan competition attracted more than 5 500 entrants, while 936 people were provided with training on national and international standards and 129 were given productivity testing support.
Interesting details of Seda's clients include:
A total of 56 per cent of Seda clients saw their turnover increase while 32 per cent increased their staff quota.
In all, 96 per cent of those that seek help from the agency are black and 51 per cent are men, while 46 per cent run youth-owned businesses.
Almost two thirds are in the services sec- tor, while 78 per cent of all clients Seda assists operate micro firms with between one to five employees.
For more information contact Seda's National Information Centre on 0860 103 703 or email: info@seda.org.za