Infrastructure development
In an effort to respond to the demands of a growing population, the Gauteng Department of Infrastructure Development intends building nine new schools in the province.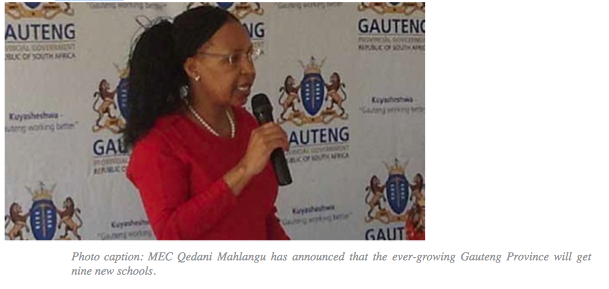 MEC for Infrastructure Development Qedani Mahlangu said the nine schools, to the value of R700 million, have been identified as part of the New Priority Schools Programme. Construction of these schools will be completed in June 2013.
The new schools are Chief Albert Luthuli Primary School (Daveyton), Northriding Secondary School (Randburg), Palmridge Secondary School (Katlehong), Slovoville Primary School (Soweto) and Noordwyk Primary School (Midrand). These schools will be built by the department.
Construction of the other four schools will be managed by the Independent Development are Mamelodi Primary School (Mamelodi), Naturena Primary School (Naturena), Freedom Park Primary School (Freedom Park) and Steve Bikoville Primary (Farm Klipdrift). MEC Mahlangu issued a stern warning to all the constructors who have been contracted by the department.
"My message is resolute, I will not tolerate contractors who cut corners. The department will not tolerate mediocrity. Only contractors who have a pedigree of delivering excellent service will be afforded the opportunity to work with the department," she said.
Contractors pledged to meet various requirements such as entering into joint ventures with smaller contractors to ensure skills transfer.
Contractors are expected to maximise the use of local resources to promote localisation. They are also required to indicate targeted job creation, in line with Expanded Public Works Programme guidelines.