International relations
BRICS development bank can help create jobs in South Africa and pro- mote greater trade on the continent by funding new infrastructure, say emerging markets analysts.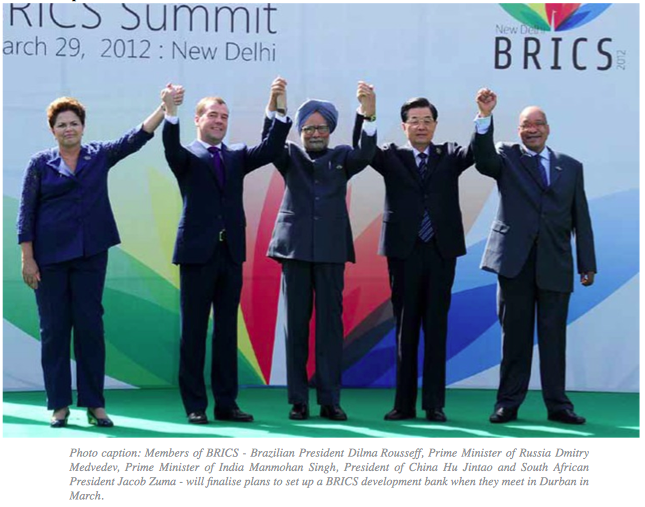 The BRICS countries - Brazil, Russia, India, China and South Africa - plan to finalise the setting up of a BRICS development bank at the next BRICS summit to be held in Durban in March 2013.
This comes after the leaders of the five countries considered a proposal at the last summit in New Delhi to set up the development bank, funded and managed by the BRICS and other developing countries.
The finance ministries from the five member countries are now working on a business plan for the development bank.
University of Pretoria international political economy senior lecturer Dr Mzukisi Qobo said the development bank could help fund the roll out of infrastructure on the African continent. He pointed out that appetite for investing in Africa was growing, with China, India and Gulf countries all interested in investing.
However investment was still held back by a lack of adequate infrastructure in Africa.
A 2009 report by the World Bank estimated that Africa would need about $93 billion (R809 billion) a year to replace and build new infra- structure on the continent.
Qobo said setting up a BRICS development bank could also create more jobs in South Africa, as companies from BRICS member states would be keen to base themselves in the country to source goods from the rest of the continent. Improved infrastructure could also lead to more business for South African companies in the rest of Africa.
He said the development bank would likely supplement existing efforts of multilateral and regional financial institutions for global growth and development.
Martyn Davies, the chief executive of Frontier Advisory, said the development bank could boost regional development in Africa. The bank could also act as an emerging market counter- weight to the International Monetary Fund.
Davies said a fi e of $240 billion (R2 trillion) had emerged in relation to the size of the initial funding pool available to the development bank. He said in setting up the bank, BRICS members are likely to mimic the example of the Chinese Development Bank, one of the world's largest development banks.
The challenge, he said, would be to manage political relations between BRICS member countries when it came to running the development bank. The Deputy Minister of Inter- national Relations and Cooperation, Marius Fransman, said late in 2012 that a BRICS development bank would provide "a major boost" to the South African government development needs.
Deputy Minister Fransman said his department is also considering setting up a BRICS think-tank to look at diplomatic and economic opportunities between South Africa and its BRICS partners.
He listed the three main objectives that South Africa seeks to achieve from its membership of BRICS as:
Boosting job creation and the domestic economy.
Supporting African infrastructure development and industrial development.
Partnering with South partners to revamp world governance organisations such as the United Nations Security Council.
When it came to boosting its position in BRICS, South Africa, he said, needed to look beyond its population of 51.7 million and at how it could position itself on a continent of one billion people that is fast rising economically.
The rationale for South Africa's involvement in BRICS should be in how it can link the Afri- can continent with the other BRICS members, he said.
Deputy Minister Fransman said South Africa's overall trade with BRICS countries had more than doubled from $9.2 billion (R80 billion) in 2005 to $20.4 billion (R177 billion) in 2010. Africa's trade with BRICS countries is expected to reach one third of total trade on the continent in 2015, up from one fifth of total trade in 2010.