Written by Samona Murugan
Youth matters
Hundreds of youngsters from across the country displayed their entrepreneurial flair during Global Entrepreneurship Week.
The largest campaign to promote entrepreneurship and entrepreneurial thinking among youngsters took place from 12 to 18 November.
The National Youth Development Agency (NYDA) joined in the campaign, housing entrepreneurial access points at its branches countrywide. Young, innovative and creative thinkers flocked to the branches, which hosted business awareness sessions for high school learners, seminars and presentations for aspiring and established entrepreneurs.
Young entrepreneurs also showcased their products and services, while the NYDA beneficiaries shared their business experiences with other aspiring entrepreneurs.
Since its inception in 2009, the NYDA has disbursed 33 975 loans valued at R97 million to young entrepreneurs. A further 3 932 youngsters are currently involved in the NYDA's Business Mentorship Programme, with 71 922 having gone through its entrepreneurship training.
Vuk'uzenzele spoke to some outstanding youngsters and beneficiaries of the NYDA programmes who participated in Global Entrepreneurship Week.
Nqubile Nkosi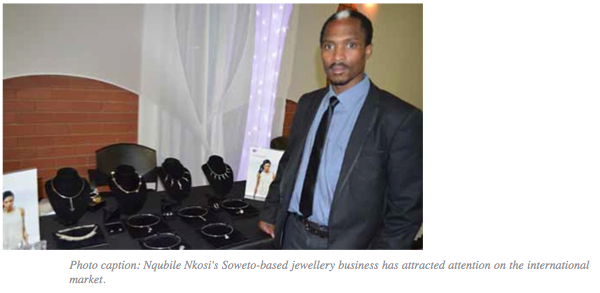 Nkosi is the proud founder of Soweto's first black-owned jewellery manufacturing and retail business - NQ Jewellery Design Services. Using precious metals such as silver, gold, platinum and diamonds, he designs and manufactures extraordinary jewellery. His talents have also landed him a partnership with Cornerstone Jewellery - a United Kingdom (UK) jewellery brand - a first for a local jewellery designer.
Nkosi's journey in the industry started in 2007 after he completed an 18-month training course in jewellery manufacturing and design. "I started the business with the seed capital that I made by selling cakes, biscuits and soft drinks on the streets of Soweto," he says.
With limited funds and equipment, Nkosi repaired and manufactured jewellery on a small scale. He then applied for a business loan from the NYDA, which allowed him to buy additional equipment and material and provided him with working capital.
Today his business has trained and employs four people in the Soweto workshop. Nkosi and his business have received many accolades such as the Gauteng Business Leader of the Year Award in 2008, the Jet Community Regional and National Award in 2009 and the South African Breweries Kick Start Award in 2012. "I also received immense assistance and donations from Paul Purgeon Designs and the British jewellery trade members," he says.
In 2012 Nqobile and UK designer Paul Spurgeon launched the Cornerstone jewellery brand. The jewellery collection is sold in South Africa and the UK. Nkosi also visited the UK and attended a two-week internship programme where he learnt about all aspects of jewellery production.
Nkosi says the brand is doing extremely well in the UK market and was chosen as one of the 2012 Hot 100 in the UK jewellery trade. However, in order to ensure growth in the South African market, he is keen to partner with prime South African jewellery retailers.
"The African continent has an abundance of natural resources which have for so long supplied the needs of the worldwide jewellery market. Our aim is to take advantage of these resources by training and employing South Africans from disadvantaged communities so that we can alleviate South Africa's high unemployment levels," he concludes.
Khulekeni Khanyile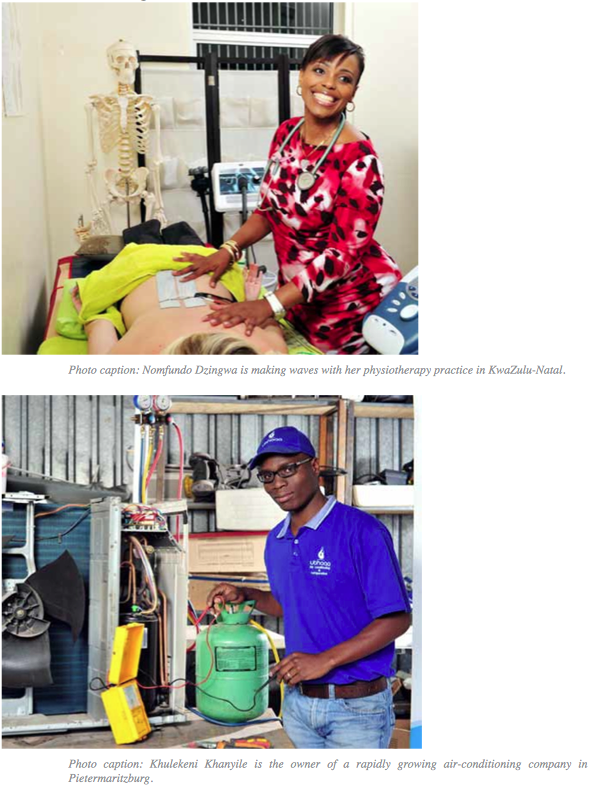 Khulekeni Khanyile is the proud owner of a Pietermaritzburg-based air conditioning company, with a clientele that includes government departments, municipalities and home owners. Defying the misconception that air conditioners are a luxury among black people, Khanyile identified a gap in the market by targeting mainly black home owners. "My aim is to make people understand that air conditioners can be affordable," he says.
Khanyile studied air conditioning and refrigeration at a further education and training college, before joining a Durban-based air conditioning company and later moved to Pietermaritzburg.
"I studied refrigeration trade theory while working in Pietermaritzburg and fixed people's fridges and air conditioners in my spare time. However, I was not happy with my growth at the company where I worked and decided to start my own business on a full-time basis," he says.
It was challenging in the beginning as he relied mostly on work from local municipalities and work was slow coming in.
To boost his business he approached the NYDA for a business loan. "The NYDA firstly assisted me to draft a business plan in 2011 and I then received a R370 000 business loan to import 88 air conditioners from China, buy a bakkie and for marketing material."
The loan helped him accelerate his business' growth by targeting black home owners.
Khanyile's advice to aspiring entrepreneurs is to be passionate about what they do. "You should not expect to get rich overnight be- cause any business has its ups and downs."
Nomfundo Dzingwa
Nomfundo Dzingwa heads the first black, female-owned physiotherapy practice - Dzingwa Clinic Physio - in KwaZulu-Natal that specialises in gynaecological physiotherapy. In 2010 she acquired a R50 000 business loan from the NYDA, which she used to buy medical equipment and an electrical fence for her practice.
Born, raised and schooled in the township of Umlazi, south of Durban, her journey into the world of physiotherapy started when she obtained a Bachelor of Science degree from the University of Durban-Westville and then an Honours degree in Physiotherapy from the Medical University of South Africa in 2001. She also has a Diploma in Sport Physiotherapy and a Certificate in Orthopaedic Manual Therapy.
This highly ambitious and driven young woman has various achievements under her belt, which includes being part of a team that set up therapeutic rehabilitation facilities at rural hospitals in the country. She has also successfully run physiotherapy practices and served as a health expert on Ukhozi FM's health show.
Despite her many achievements, Dzingwa is still moving full steam ahead. She is currently in the process of expanding her physiotherapy practice to include an dialysis and renal therapy care centre. "The love and passion that I have for what I do keeps me going when it gets tough," she explains.
Dzingwa gained valuable experience and knowledge on treating spinal and neural injuries like strokes and chest physiotherapy while being mentored by renowned physiotherapist Melanie Skeen at Meulmed Medi-Clinic in Pretoria. "Some of the valuable lessons that I have learned have been from setbacks and failures. Today I employ five people and with the introduction of the dialysis and renal therapy care centre I will be able to employ four more people."
Serving on the committee of the Business Women's Association (BWA) has enabled Dzingwa to network and learn from other businesswomen. "I also enjoy the development work that I do with the BWA. Through our mentorship programme, we expose girls from rural schools to the business world," she says.
For more information contact the NYDA Call Centre on 0800 525 252.