For most South Africans, the start of a new year begins with reflecting on fun-filled, relaxing holidays and time with families.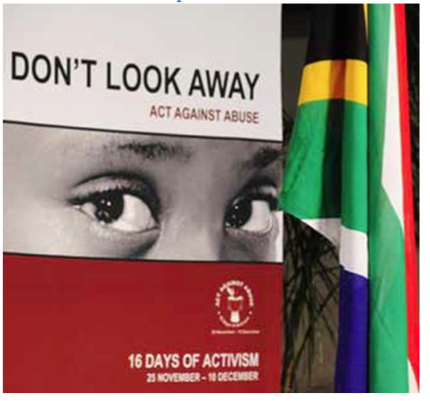 But, for other citizens, the festive season is anything but festive, as they fall victim to abuse at home, which should be the safest place on earth.
However, help is at hand. If you are in an abusive relationship or a child in your care is being abused, you can take steps to protect yourself or the child by approaching the courts. The Domestic Violence Act gives victims of domestic violence the maximum protection the law can provide.
If you or someone in your care is being abused, you can get a protection order from court against the person responsible for the abuse.
Domestic violence occurs when you are subjected to:
Physical abuse: for example, when you are assaulted or threatened with violence.
Sexual abuse: for example, when you are raped or forced to perform or watch humiliating sexual acts.
Emotional, verbal and psychological abuse: for example, when you are subjected to constant insults, ridicule or name-calling.
Economic abuse: for example, when you are prevented from earning an income.
Intimidation: for example, if you receive threatening and fearful messages or SMSes.
Harassment: for example, when you repeatedly receive phone calls or are being constantly watched and this causes you to be afraid.
Stalking: for example, when your abuser repeatedly follows you or demands to talk to you against your will.
Damage to property: for example, when your abuser intentionally damages your property without your consent.
Any other controlling or abusive behaviour that may cause harm to your safety, health or well-being.
The person abusing you can be any one you have a domestic relationship with by blood, marriage or adoption. This includes your spouse, live-in partner, adoptive parent or child, housemate or family member.
It may also be someone you used to date or you were engaged to.
If you are a victim of domestic violence go to the clerk of the court at your nearest magistrate's court to obtain a protection order.
A protection order will prevent your abuser from repeating the attack against you.
If the act of domestic violence amounts to a crime, you can lay a charge at the nearest police station.
Acts of abuse which are also crimes include common assault, assault with the intention of doing grievous bodily harm, indecent assault, rape, incest, attempted murder, malicious damage to property, pointing a firearm and abuse of animals.
By asking for a protection order you are not laying a criminal charge. You do not need to lay a criminal charge to get a protection order. Once you have the protection order, it is a crime for your abuser to break the conditions of it and the person can be charged with contempt of court if they do so.
If the breach involves a crime such as assault, then the person can be charged with both contempt of court and assault.
Being in possession of a protection order means having the power to have your abuser arrested as soon as that person commits an act of abuse against you.
All you need to do is report that the abuser has breached the conditions of the protection order and police will act immediately.
A protection order can be obtained from a magistrate's court in your area or the area where the abusive person lives.
You may go during court hours, after hours and even on weekends if it is urgent. You will need to fi out an application form for the order. If you need help to do so, a clerk of the court will be able to assist.
Your application will then be taken to the magistrate who will prepare a notice that will be served on the abusive party. There will also be a date requesting the person to come to court for a hearing. A sheriff of the court will deliver the order to the abusive party.
A protection order is a powerful document that gives you protection against abusive behaviours or acts of domestic violence. It even goes as far as offering protection to extended members of the family.
Should there be a breach of any one of the conditions set out in the protection order, it may result in the offender being sent to prison for up to five years or being fined.
If you are being abused call:
Police on 10111
Childline on 0800 055555
Stop Women Abuse Hotline on 0800 150 150
Lifeline on 0861 322 322 or (021) 461 1111.