The second phase of the Extended Public Works Programme (EPWP) has created more than 2.6 million job opportunities for South Africans since 2009.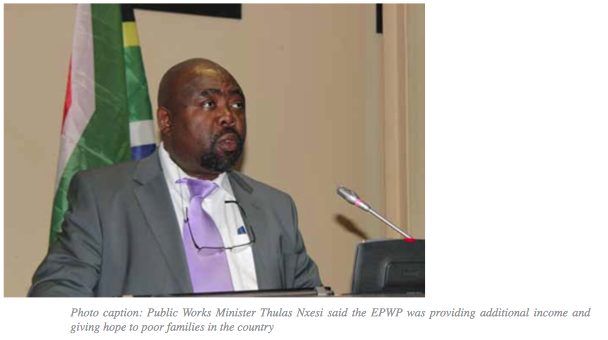 "This represents 55 per cent of the target at the end of the second quarter of the 2012/13 financial year," said Department of Public Works Deputy Director-General for EPWP Stanley Henderson.
The EPWP is a programme run by the department aimed at providing poverty and income relief through temporary work for the unemployed.
The work opportunities created by the EPWP are combined with training, education or skills development, with the aim of increasing the ability of people to earn an income once they leave the programme.
The department's target for the second phase of the EPWP is 4.9 million job opportunities by 2014.
Speaking at the 3rd EPWP summit held in Pretoria, which all of the country's 278 municipalities attended, Henderson said 48 per cent of municipalities had met the targets set for creating job opportunities.
Municipalities in Western Cape and Northern Cape were the top performers when it came to the EPWP targets while municipalities in Limpopo, North West and KwaZulu-Natal fell behind their counterparts.
He said the department planned to improve its working relationship with municipalities to assist those in struggling provinces reach its goals.
Henderson added that those at the summit should work together to make certain that the EPWP changed the lives of people.
The summit gave the department, municipalities and others an opportunity to share best practices in implementing the EPWP.
Progress made since the 2011 summit was also noted.
Acting Chief Director of EPWP Partnership Support Lungisani Dladla said to date 277 of the 278 municipalities had signed the EPWP implementation agreements.
Also, before the 2011 summit only three municipalities had endorsed the EPWP policies but by the time the 2012 summit came along 24 municipalities had endorsed the policies. Minister of Public Works Thulas Nxesi said he was looking forward to the EPWP improving the lives of the poor who depended on the programme.
"The work that we do as a department is very important. We provide employment opportunities to the unemployed. We seek to transfer income directly into poor households and in doing so we bring hope to families. That additional income, small as it may be, goes a long way to support family members. That small income and the training received also provides a gateway to education, training and eventually employment."
He added that failure was not an option for the department.
"You can see that the EPWP is an exciting place to be. We must feel privileged to be able to contribute in such a concrete way to the empowerment and betterment of our poorest communities. By the same token, it is a heavy responsibility. We dare not fail."
For more information contact the EPWP on 012 406 1201.