Things have just gotten worse for criminals and better for law-abiding South Africans as police officers acquire more skills to help them detect and prevent crime.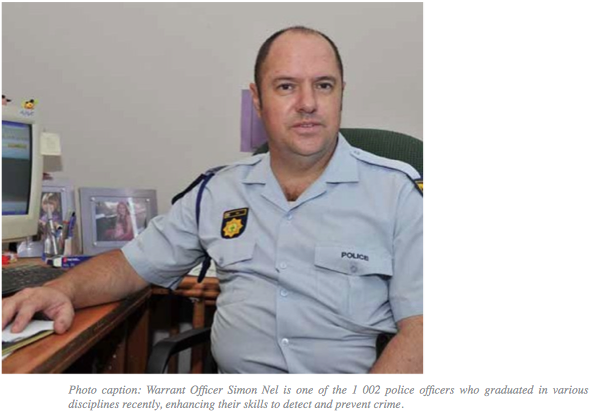 Recently, 1 002 officers graduated in different disciplines, enhancing their ability to combat crime.
This included 331 who qualified as detectives and 84 who graduated through the Recognition of Prior Learning (RPL) Programme.
Others qualified in fields such as human resource management, public administration and forensic sciences.
The graduation ceremony was held at the Tshwane Academy in Pretoria West.
During his budget speech, Police Minister Nathi Mthethwa declared 2012 as the year of detectives. He said this was in line with government's five key priorities that include the safety of citizens.
One of the new graduates, Warrant Officer Simon Nel, is one of those who will be training detectives.
He received a National Diploma in Occupationally Directed Education Training and Development Practices (ODETDP).
Nel, who is based at the Hammanskraal Detective Academy, said education had no limits.
After practising as a detective for 10 years, he turned his focus to educating and training budding detectives.
"I would not be in the division of training if I did not believe in ongoing education. Every single day you learn something new. I would encourage police to upskill and improve to benefit themselves and the clients they serve," Nel said.
He also emphasised the importance of a positive attitude.
"You can have knowledge and skills but without the right attitude it is meaningless." Nel started studying towards his Diploma in ODETDP in 2006 and studied in intervals before completing it.
He also has an Honours degree in Policing, Certificate in Money Laundering and Commercial Crime Control, and a Diploma in Human Resource.
He explained that a detective's role was to react when a crime was committed. A detective's core functions included investigating how a crime was committed, who committed it and reporting to the court.
Being a detective requires a lot of dedication, commitment, self-respect and pride. "You need to continue to work even when no one is watching," Nel said.
National Police Commissioner General Riah Phiyega also stressed the importance of learning, saying it should become a way of life. "331 detectives are graduating for the first time, 84 detectives are graduating through RPL. The rest come from the Detective Programme run at Graaff Reinet. This is a real indication that 2012 is the year of detectives," she added.
Commissioner Phiyega was confident that graduates would display a culture of service delivery, driven by quality and client satisfaction.
"They will be dedicated, committed and loyal to the SAPS as an employer of choice. Their knowledge and experience will benefit the country as a whole in crime fighting," she said.