Four former prisoners from Tsakane, Gauteng have risen against the odds to grab their second chance in life. Veli Sefali, Salamina Molakeng, Syd- ney Kodijang and Jane Ngama have teamed up with three community members to set up a cooperative.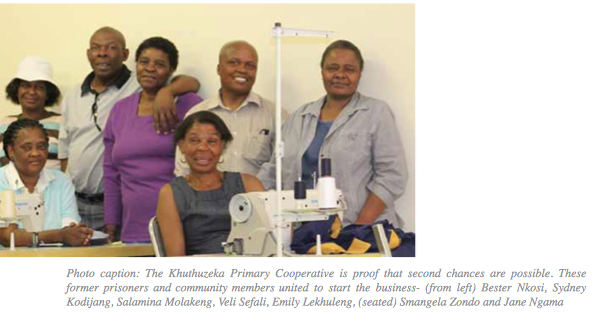 The Khuthuzeka Primary Cooperative, which was officially registered in 2010, produces bed linen, artwork, upholstery, African beadwork and school uniforms.
Sefali initiated the business after his release from prison in 2009.
He was convicted of conspiracy to commit robbery. After spending seven years behind bars, Sefali successfully appealed his sentence and was released.
Molakeng served a 11 month sentence for fraud and was released in 2000.
Kodijang left prison in 2009 after serving 10 years for robbery, while Ngama tasted freedom in 2003 after serving a four year prison term for fraud.
The four teamed up with Emily Lekhuleng, Bester Nkosi and Smangela Zondo - members of the Tsakane Community.
Lekhuleng, Nkosi and Zondo were already sewing at the time, specialising in linen.
While at the Makhado Correctional Services in Limpopo, Sefali learnt skills such as wood-teaching artwork.
After his release, he got help from the Com- munity Corrections Forum, a forum created by the Department of Correctional Services to teach former prisoners how to start their own businesses and make a living outside prison.
The cooperative has now secured a contract with the Ekurhuleni Metropolitan Municipality to make uniforms for local schools. Gauteng Enterprise Propeller has also assisted the group by giving them five sewing machines.
The group sells most of its goods at flea markets and to the community.
While Lekhuleng, Nkosi and Zondo manufacture the bedding, Molakeng focuses on artwork, Kodijang specialises in upholstery and Ngama does the sewing.
"We all have different skills and we are teaching each other. This makes the manufacturing process faster," said Lukhuleng.
They all have big dreams for the cooperative.
"We would like to see the business competing with big companies like Pres Les and HomeChoice," said Zondo.
Sefali's aim is for the business to grow so that it can to employ more community members. All those involved in the cooperative recognise the need for ex-offenders to be welcomed back into society.
Lukhuleng said it was important to give former prisoners a second chance. The cooperative is proof of what can be achieved when that second chance is offered, she pointed out. Kodijang, who has a passion for teaching, also wants to share the skills he learnt in prison with young people.
The group have also registered a non-governmental organisation called Active Mzansi, which teaches young people about the dangers of drugs, alcohol and crime. It also offers career guidance.
"We also want to tell other ex-offenders about how they can start their own businesses. People leave jail with skills but struggle to find a job because of their criminal record. In other cases people struggle to accept ex- offenders back into the community. We also provide guidance on this," Sefali said.