The Expanded Public Works Programme (EPWP) is tackling poverty and underdevelopment in our communities by creating opportunities for skills transfer and the delivery of public assets and services.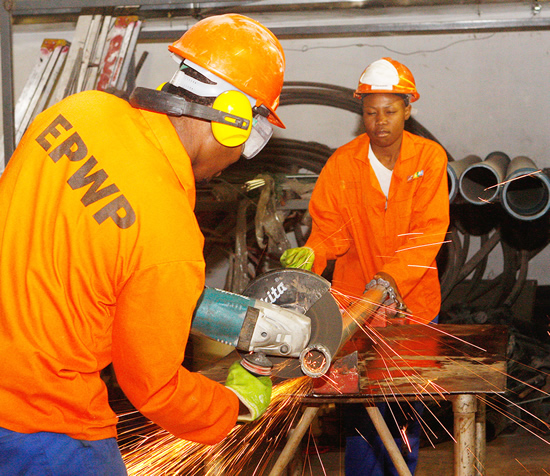 The EPWP is playing a role in alleviating poverty by providing work and training opportunities for poor and unskilled South Africans.
Since 2014 the EPWP has created 2 343 147 work opportunities throughout the country. Most of those who benefit are community members who otherwise would not have had any chance of entering the formal world of work because they are unskilled and/or have never worked before.
Think about the people who fell by the wayside as you progressed from Grade R to Grade 12 and later tertiary level. Where did those people end up? Many of them end up in the temporary employ of the EPWP, where they gain the skills needed to enter the formal job market.
Rewarding hard work
Once in the EPWP, participants receive training in various activities such as gardening, security, community care giving, and firefighting, or learn to be basic pharmacy assistants or artisans.
We have many good stories in the EPWP where a participant enters the Programme as a cleaner, gardener or working as a volunteer caregiver and eventually becomes a skilled and qualified artisan, firefighter and/or even a small business owner who provides jobs to our people. 
Contributing to change
The department says: "never undermine and/or underestimate the EPWP and the … developmental role it plays in the betterment of the lives of our people".
The developmental role that the department refers to relates to the community assets and services delivered through the Programme. Assets are things such as dams, roads, community recreational facilities, schools and hospitals that are constructed and maintained using the EPWP's labour-intensive methods.
Some of the community services rendered through the EPWP include participants caring for thousands of senior citizens as well as for hundreds of thousands of children.
In the Mbashe Local Municipality in the Eastern Cape, community members – EPWP participants – took part in the construction of a multi-million rand dam that has enabled the municipality to provide clean drinking water to villages there.