A new mill funded by the Rural Enterprise Development Hub will improve the lives of rural Eastern Cape residents and spur economic growth.
A new maize milling plant in rural Mbizana promises the hope of a rejuvenated economy in this Eastern Cape municipality. Located in Dyifani village outside Bizana, the mill draws employees – mostly youth – from local villages and provides an income to more than a 1 000 co-operative members.
Funded by the Eastern Cape government under the Rural Enterprise Development Hubs (RED hubs) programme, the R53.5 million facility processes maize supplied by local co-operatives for use by local communities as well as being shipped to the shelves of national retail chains.
At the unveiling at the end of March, President Jacob Zuma explained that the Dyifani project along with three other RED Hub projects in the province – located in Chris Hani, OR Tambo and Alfred Nzo municipalities – will generate income for residents of neglected rural communities.
"These RED hubs with the primary production covering a total of 3 754 ha of land and producing maize and sorghum planted by rural co-operations ... made an income of about R8.2 million during the mid-term.
"The RED hubs created a total of 397 permanent and 679 short-term jobs and there's a potential to create more jobs when the milling plants are fully operation," the President explained.
Owned by villagers, feeding the country
Vusi Ngesi, general manager of the Bizana Mill, calculates at least 1 400 people benefit directly from the mill's operations. There are 64 full time employees and at least 100 members in each of the 14 local co-operatives that supply the mill, a secondary co-operative, with maize to process. The development has already improved the region, says Ngesi. 
"It has changed the lives of people because there are job opportunities, and milling is here, and they can get maize meal from our own area. What's also very important is that people are being skilled in taking soil samples, analysing soil and determining the type of fertiliser to use to get a certain yield."
The region is moving from a collective of subsistence farmers to becoming a region built on commercial agriculture. The mill grinds maize for Lethabo Milling, who are suppliers to national chains like Boxer Supermarkets and Massmart, owners of the Makro and Game supermarket chains.
Ongoing development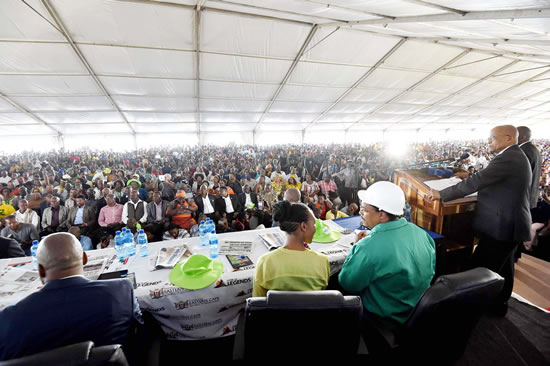 The Eastern Cape Rural Development Agency (ECRDA) provides ongoing business development services to all four of the RED hubs they have financed. The province has turned to Lethabo Milling founder Xolani Ndzaba to help build sustainable industries around the existing RED hubs.
Ndzaba says, with his assistance the Bizana Mill has already won orders from the Boxer chain. "That plant has a lab to ensure the milled maize meets their quality standards. In terms of the memorandum of understanding, the agreement covers all RED hubs. We provide technical skills, management development and access to markets, which is where Lethabo comes in."
Based in the Free State, Lethabo Milling is believed to be the first 100 per cent black-owned maize processing company in South Africa. The relationship between Lethabo and the Eastern Cape provincial government began after he was invited by the Department of Trade and Industry (the dti) speak to the parliamentary committee on agriculture. "Back in 2014, parliament asked me how I would assist communities to access the market and how I could ensure more black millers come into the industry," said Ndzaba.
Lethabo has now opened an office in East London after a successful meeting with ECRDA set up by the dti. Ndzaba's company has 40 employees with an average age of 31 because he focuses on youth development.
"Forty-three per cent of my employees are females and operate at the critical parts of the business such as labs, packaging lines. I run a plant that has passed food safety standards. We presented to the department and ECRDA … ECRDA told us they have milling plants established in communities and asked us to check how we can help with food safety standards," Ndzaba said, explaining the beginning of his relationship with ECRDA. 
What Are RED Hubs
THE Eastern Cape Rural Development Agency wants to develop rural villages as the centre of mega farm operations by linking production, processing and marketing elements.
Community produced crops are processed and traded through RED hubs with income re-invested into the communities.
Provincial investment in Emalahleni, Ncora, Mqanduli and Bizana covers the construction of silos, a milling plant, a weigh-bridge and farming equipment. By linking production to processing facilities and onto markets, the province expects that dormant assets, land, in rural communities will be turned into drivers of economic activity.