Advertorial
The Department of Cooperative Governance's Community Work Programme gives meaningful work opportunities to the poor. Now the programme is helping their children get a better start in life.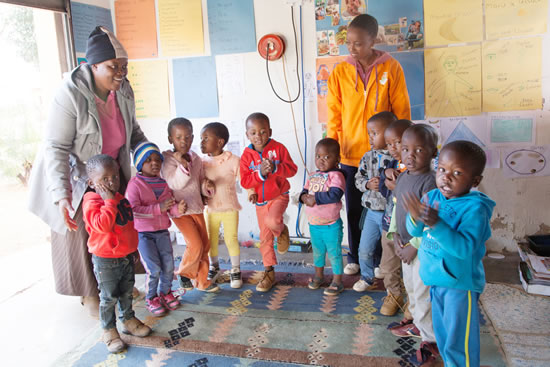 Cynthia Molehe's grandfather always told her she would grow up to be a teacher. "He used to say I had the brains in the family. That I was going to make something of my life.
"But when I finished my matric in 2004, there wasn't any money for university."
Molehe grew up in Madibogo, a village in one of North West's poorest local municipalities – Ratlou. Ratlou stretches for kilometres – it's vast and dry, with no towns or industry. More than 100 000 people live here, but the only jobs are seasonal farmwork and contract labour at the local open-pit gold mine.
With no chance for further education, Mohele went to look for work. But all she found were low-paid piece jobs.
Meaningful jobs
In 2013, she joined the Department of Cooperative Governance's Community Work Programme (CWP), which provides meaningful jobs for the poor.
"The work is all community orientated – maintaining vegetable gardens in schools, helping the aged, cleaning public spaces," says Mohele. "Soon after I entered the CWP, I was identified as a skilled worker and offered specialised training." But Mohele still hadn't given up on her dream of being a teacher.
"In 2015, I was invited to train as an early learning playgroup facilitator (ELF). I jumped at the chance to work with children." She went on to become a mentor trainer, managing a group of ELFs. She now manages 10 playgroups in Ratlou.
Stimulating young minds
The early learning playgroup model was introduced to North West in 2015 through a partnership between the CWP, the North West Department of Social Development, Cotlands, the Lima Rural Development Foundation and Ilifa Labantwana.
"This project has been a model public-private partnership," says Zamani Cele, Lima's learning support facilitator for North West.
"These partnerships shift the work undertaken by CWP participants from menial work to social action. They can create viable career paths for the participants so that they can 'graduate out of poverty' – what CWP refers to as an 'exit strategy'."
Lima and Cotlands, two national NGOs, partnered with CWP to select qualified CWP participants to run playgroups for children aged three to five. These are kids who lack access to the benefits of early childhood development.
"We are thorough in our selection," says Zamani. "Participants have to have passed Grade 10. We check for criminal records, and we do aptitude, numeracy and literacy assessments." Participants are also screened against the sexual offenders register, in line with legislation in the Children's Act.
Growing dreams
Selected CWP participants are then trained in playgroup facilitation by Cotlands, an early childhood development NGO. Aside from providing the initial training to the ELFs, Cotlands and Lima provide ongoing support from people like Molehe – the mentor trainers.
"The early learning programme is different to the rest of the CWP work," says Terrance Mahlatsi, who manages the 1 200 CWP participants in Ratlou. "The participants who have trained as ELFs want to become teachers. This work opportunity means they think of themselves as teachers already – so their dreams grow."
Many villages in Ratlou have no early childhood development centres at all. ECD stimulates the minds of very young children, setting them on the path of lifelong learning. Where day care centres exist in Ratlou, the cost – anything from R50 to R350 per month – is too much for many rural households, who mainly rely on social grants and subsistence farming for survival.
The 2016 South African Early Childhood Review found that 71% of North West's children under six live in poor households. These children spend most of their day at home.
According to the South African Early Childhood Review, a third of South Africa's three- to five-year-olds – that is, one million children – don't get the benefit of any early learning programme.
'You have made my child clever'
"Young children need to be stimulated. The learning which takes place before school will ensure that the child is able to absorb knowledge once they start Grade R," says Getrude Mabeza, Cotlands project manager for North West. "There is evidence that children who attend a good quality early learning programme are better equipped for the formal education system."
The benefits are clear to Molehe. "I have seen the difference these playgroups make in so many children," she says. "They come shy and they sit in the corner, not talking and not interested in the games.
"A few weeks in, and they are excited, they are taking part in everything, they can't stop talking. I don't mind if they are naughty – that's how children should be!
"Their parents come and thank us. They say: 'You have made my child clever.'"