Written by Monique Johnstone
Delicate knee surgery carried out with the help of robotics at Mitchells Plain hospital is the first of its kind in South Africa.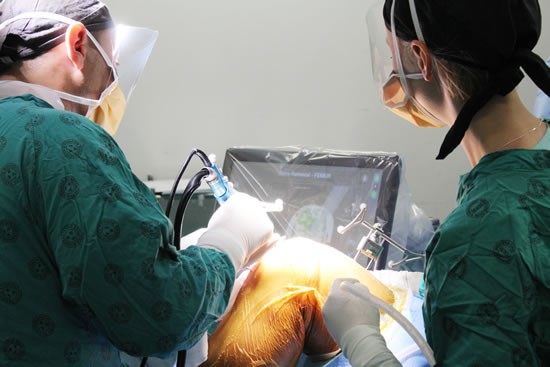 Surgeons Dr Paul Rowe and Dr Yusuf Hassan recently performed the first robotic knee replacement surgery of its kind in the country at Victoria and Mitchells Plain District Hospital.
This technology allowed the doctors to demonstrate the future of orthopaedic surgery in South Africa.
The benefit of the technology is that it simplified the operation for the surgeons. It gave an accurate map of the area of the knee where the implant would be made. It also made cutting the knee in the operating room very precise.
Using robotics means far fewer errors during surgery, in comparison to surgery done by hand. The patient loses less blood, and the robotic system gives immediate electronic feedback on the success of the operation.
The patient also recovers more quickly. Within one or two days after surgery the patient will start showing signs of healing and movement.
How it works
The robotic machine works together with the surgeon's hand to give an accurate assessment of the knee. A special optical probe creates a "virtual" computer model of the knee. This helps the doctor to choose the implant size that best fits the patient's knee. The robotic operation takes only an hour and  half to insert the knee implant.
"This revolutionary technology allows you to template the patient's anatomy before making the bone cuts, and it allows you to decide where to precisely place the implants," said Dr Hassan.
Earlier this year, Dr Hassen was given insight and training on how to use the technology by an expert at Navio Robotics in France. He then brought back his knowledge to perform these ground-breaking procedures in our state hospitals.
"The robotic system is more accurate than a manual system, where after performing manual surgery one would have to wait and see the outcome of the surgery," said his colleague, Dr Rowe.
"The hope in the development of robotics is that it will be the next step for the future of orthopaedics. We expect significant improvement because research is showing that the more accurately you place the implant, the longer the survival of the implant."
Western Cape Minister of Health, Dr Nomafrench Mbombo, said partnerships were key to this kind of breakthrough. "The Western Cape Department of Health continuously strive to lead the way with innovative surgical procedures and it is through partnerships with other healthcare organisations that we can provide better and improved healthcare for our patients," she said.   
Monique Johnstone is a Principal Communications Officer with the Western Cape Department of Health.