Sport, arts & culture
Ontlametse Phalatse,  the first black woman in the world diagnosed with the aging disease progeria, has been praised for her courageous spirit and the inspiration she gave to others.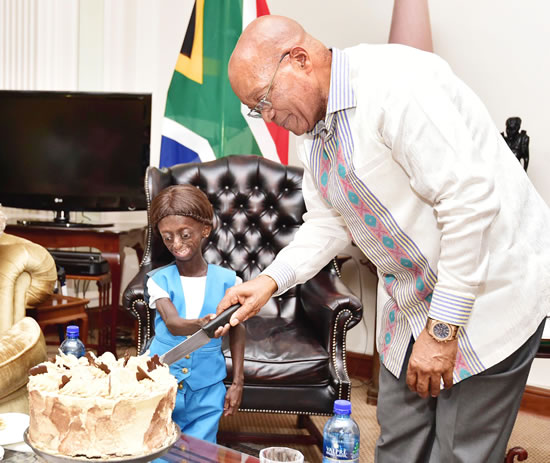 A fighter to the end is how many have described Ontlametse Phalatse, the dynamic young woman known for her brave battle with progeria
Progeria is a rare genetic condition that causes children to age rapidly. It is often fatal, and claimed Phalatse just after her 18th birthday.
Phalatse used to call herself the First Lady, because she was the first black woman in the world to be diagnosed with this disease.
Despite the physical toll on her body, she remained a positive inspiration throughout her life.
After experiencing breathing difficulties she was rushed to Hebron Clinic, and then referred to Dr George Mukhari Hospital, where her life ended.
'We will miss you sorely'
The Phalatse family and Ontlametse Phalatse Trust thanked nurses and staff for their compassion and effort in trying to save her.
"Our hearts are filled with pain and sadness but Ontlametse as we know her would want us to carry on with her courageous spirit," the Ontlametse Phalatse Trust said in a statement. "We will miss you sorely, Tsontso, our first lady. May you find eternal peace among the angels. Rest in peace."
Ontlametse's mother, Bellon Phalatse, says her baby was born looking normal. But she realised early on that something was wrong. The baby suffered constant rashes, and Bellon thought she had a skin disease.
After Phalatse was diagnosed with progeria doctors did not think she would live to see her 14th birthday. But in March this year she turned 18, after finishing her matric.
Meeting the President
One of Phalatse's dreams was to meet President Jacob Zuma. On the eve of her birthday that dream came true at the Mahlamba Ndlopfu presidential residence.
During their chat, President Zuma came to learn of the challenges Phalatse faced. He offered to assist her and her family. After the meeting Phalatse thanked those who had supported her through the years.
'A dynamic lady'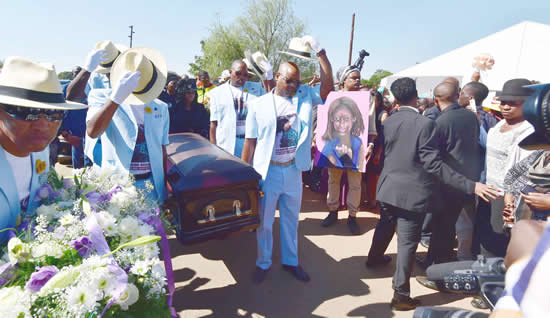 At Phalatse's funeral in Hebron in North West, crowds of people gathered in a large marquee to hear President Zuma speak in her honour.
He said she walked tall, despite her progeria.
"I looked forward to seeing her," he said of their meeting. "I had my own mental picture of her. That changed when she came to visit me. She walked proudly and she shook my hand. She sat proudly on her chair.
"She was a dynamic lady," said President Zuma.
The President added that Phalatse talked non-stop.
"You wouldn't ask her a question because she would answer before you had asked the question. She was very bright," he said.
Memories of Phalatse
At his meeting with Phalatse, she had expressed her wish for a car and a home for her and her mother. The President said Phalatse had spoken about the challenges of having to use public transport when going to her doctor's appointments in Johannesburg
"She had wished for a house and car. I indicated to her that I have a Trust and a Foundation," the President said at her funeral. He said that when he invited her to celebrate his upcoming 75th birthday on 12 April, he had planned to surprise her with the car she needed.
"I wanted to give her the car on my birthday, but little did I know that God had made a decision. Death is a secret only known by God. I was shocked. She was healthy," he said.
A memorial service for Phalatse was held at Hebron College, Manotsi High School.
Among those who came to pay their last respects were Social Development Deputy Minister Hendrietta Bogopane-Zulu and North West Premier Supra Mahumapelo.   
What is progeria?
The word "progeria" comes from the Greek words "pro", meaning "before", and "geras", meaning "old age".
Progeria is a rare genetic disease in which the symptoms of growing old appear in children from a very young age. People born with progeria only live to their mid-teens or early twenties.
Usually in the first year of life, the growth of a child with progeria slows down. But motor development and intelligence stay normal.
Children with progeria have a distinctive appearance:
Slow growth, with below-average height and weight
Narrow face, small lower jaw, thin lips and beaked nose
Head large for the face
Prominent eyes and incomplete closure of the eyelids
Hair loss, including eyelashes and eyebrows
Thinning, spotty, wrinkled skin
Visible veins
High-pitched voice
There is no effective treatment for the diseases. Most treatment options have focused on reducing complications, such as heart disease.
Additional information supplied by www.mayoclinic.org