written by Noluthando Motswai
Educator Sara Motsitsi won first prize for Technology-Enhanced Teaching and Learning at the 2017 National Teacher Awards.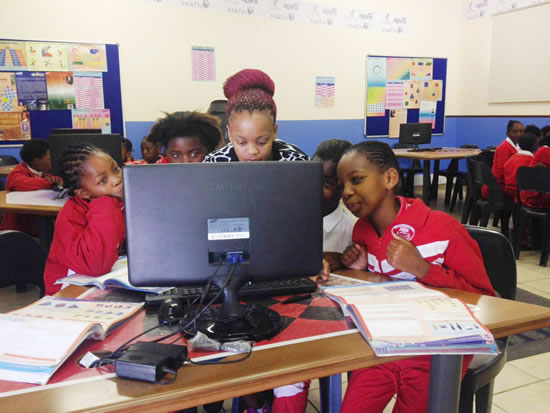 Maths is fun for the Grade 4 kids in Sara Motsitsi's classroom, thanks to their IT-savvy teacher's enthusiasm for computer technology as an educational tool.
Motsitsi is a 26-year-old educator at Reseamohetse High School in the Free State. She recently won first prize for excellence in Technology-Enhanced Teaching and Learning in the Department of Basic Education's (DBE) 2017 National Teacher Awards.
The annual awards acknowledge the amazing efforts made by South Africa's public school teachers. They are a way for the DBE to recognise and encourage caring teachers.
Up-to-date teaching methods
Motsitsi has been a teacher for only three years. But what set her apart at the awards, she says, was her use of apps and the internet to make sure her learners get the latest maths teaching methods.
"Most of the older teachers still use textbooks published 10 years back," she says. "I use the internet to access new information and methods on how to deal with difficult mathematic concepts.
"I am able to use all the resources the DBE provides us – tablets, computers and laptops."
Motsitsi says she has seen a big improvement in her learners' performance since she started teaching with digital tools.
"My learners say maths is more fun and easier to understand," she says.
Funza Lushaka Bursary
The road to the classroom – and to winning – has not been easy for Motsitsi.
Her passion for technology began in high school. "My favourite subjects at school were mathematics and computer application technology."
She matriculated in 2009, but financial difficulties kept her at home for a year. In 2011 she got a place at the Central University of Technology. She qualified with a national diploma in 2013.
"In 2014 I started looking for a job but I was not lucky," she says. "I told myself I would not stay unemployed. So I applied for the Funza Lushaka Bursary from the DBE."
The bursary allowed her to register for a Postgraduate Certificate in Education. After she qualified the Funza placement office found her a job at Reseamohetse Public School.
Motsitsi says she is proud to be an educator because she is not only helping learners, but is also building the nation – at the important stage of primary school.
The love of teaching with technology
Motsitsi never imagined she would win first prize. "When it was announced that I had won I was so happy and excited. It is a true testament that if you are passionate about what you do, you will succeed."
As prizes, Motsitsi walked away with a Chevrolet Spark, a tablet and a mobile phone – sponsored by the Vodacom Foundation – as well as a Legacy Resorts weekend away.