South Africa's eighth Special Economic Zone, the Maluti-a-Phofung SEZ, already has over R1-billion of investments and is set to create thousands of jobs in the Free State.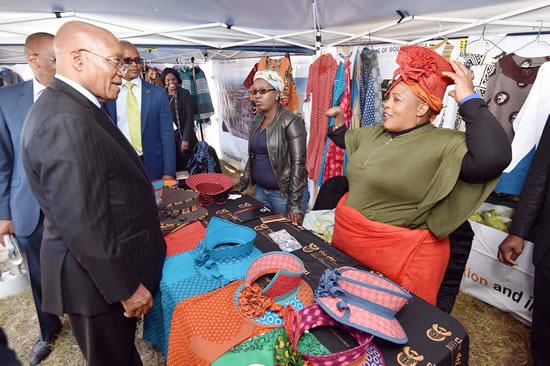 President Jacob Zuma recently launched Maluti-a-Phofung Special Economic Zone (MAP-SEZ) in the Free State, highlighting the government's drive towards inclusive economic growth.
"This launch and the development of the Maluti-a-Phofung SEZ demonstrates our promotion of industrial development which is key to the nation's long-term economic success and prosperity," said President Zuma.
He said South Africa needs to change the way its economy is structured.
"Our current reliance on exporting minerals and other raw materials to other countries is a sure recipe for an economy that enriches the few at the expense of the majority. This, of course, will just deepen the already high levels of inequality in our society," the President said.
The launch brings South Africa's total number of SEZs to eight. SEZs are geographic areas of a country set aside for specific economic activities. They offer incentives to businesses to set up shop there.
Creating thousands of jobs
At the launch, Trade and Industry Minister Rob Davies said South Africa's Special Economic Zones have together attracted over R9.5 billion in investments so far. They have also created over 10 000 direct jobs and 65 000 indirect jobs.
The MAP-SEZ has an investment pipeline of R2.6 billion, Minister Davies said. "I believe it's around R1 billion of investment that's here already."
The Free State SEZ was once an apartheid-era industrial park set up to provide access to cheap black labour.
President Zuma pointed out that these industrial parks were introduced not for their economic potential, but simply to sustain the apartheid government's "homelands" system.
SEZs critical to transform economy
The Special Economic Zones and Industrial Parks programme, run by the Department of Trade and Industry, is critical to the radical transformation of South Africa's economy.
The new SEZ is part of the government's efforts to boost economic growth and job opportunities closer to where people live.
"This we do through promoting industrialisation and also the development of township and rural economies," the President said.
SEZs also play an important role by bringing domestic and foreign direct investment into the economy.
Incentives for business
The government offers tax incentives to attract businesses to SEZs. The MAP-SEZ will offer a preferential 15 per cent – instead of 28 per cent – corporate income tax instead for a period of 10 years. Import duty tax will also be reduced on manufacturing materials and equipment.
MAP-SEZ incentives also include a research and development allowance of 50 per cent for any new technology that enhances productivity, and energy-savings incentives for the use of green building techniques.
In declaring the MAP-SEZ open, President Zuma urged companies setting up there to do business with local small enterprises.
"I am quite certain that this makes good business sense," he said. 
This article was originally published on SAnews.gov.za