Written by Ongezwa Manyathi
There is nothing more fun and exciting than touring your own country. South Africa is known the world over as a traveller's dream because it has a good balance of adventure, sport, nature and wildlife and breathtaking coastlines.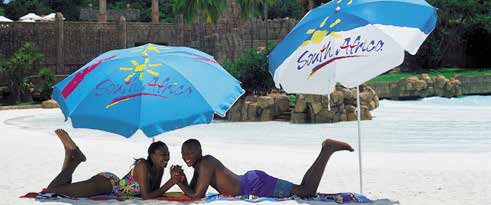 With September being Tourism Month, there is no better time to explore and experience your country. Taking time out to explore or a short holiday will also help you create some unforgettable memories.
Government and the tourism sector are working hard to make it more affordable to travel and the increase in township tourism means that taking a break does not have to cost too much money.
A short break can include anything from a day visit to a place you've never been to or sleeping over for a night or two at a bed and breakfast establishment or even hiring a self-catering unit. Self-catering accommodation ranges from apartments and holiday villas to chalets and farm cottages.
Tourism is making a huge contribution to South Africa's economy, and is creating hope and opportunity for many people in the country.
Tourism is a success story and if we work together, and do the right things, tourism can do even more to reduce unemployment and eradicate poverty.
Day trip ideas:
Basotho Cultural Village
If you are in the Free State you may want to visit the Basotho Cultural Village for a great family outing. At the village you will learn about the traditions of the indigenous Basotho people as you watch customary Basotho arts and crafts being handmade and experience the people's genuine hospitality and lifestyle.
Watch traditional dancing, meet the village elders and take home some cultural keepsakes – traditional baskets, blankets, pottery and beadwork. A 45-minute guided tour of the village costs R70 for adults, and R40 per child aged 6 – 16. For more information call 058 255 1000.
Adventures With Elephants
At Adventures With Elephants, situated in Bela Bela, north of Pretoria, visitors can touch and feed elephants, enjoy elephant back rides and swim on the elephants. All this will be done in the care of experienced and qualified elephant handlers.
For pricing and availability please contact the bookings office call 014 734 7730
September Soweto Tour
The Soweto Tour gives you an opportunity to experience and walk in the late former President Nelson Mandela's shoes and also experience the lifestyle and culture of Johannesburg. Highlights include a visit to Nelson Mandela Museum, Kliptown Freedom Square, and Hector Pieterson Memorial. For more information call 011 862 1976.
For more ideas on great and affordable travel destination visit: www.shotleft.co.za
Did you know?
The Department of Tourism in the North West has launched the Bojanala  Heritage Route.
This route ranges from the Hartebeespoort Dam in the Madibeng Local Municipality to Moses Kotane Local Municipality and some parts of the Madikwe Game Reserve in the Ngaka Modiri Molema district.
The route will help to put a spotlight on the rich heritage of the province and help to grow the economy in the area.