Written by Maselaelo Seshotli
President Jacob Zuma got to experience first-hand students' living conditions during a recent visit to the Tshwane University of Technology, situated north of Pretoria.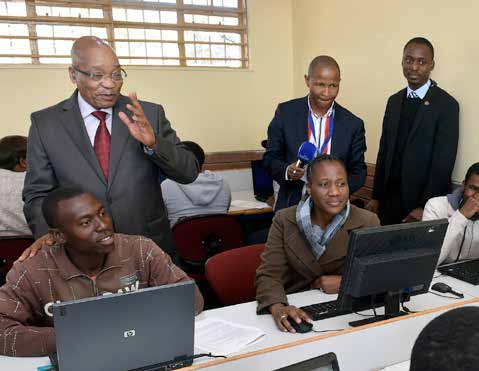 The visit formed part of government's Siyahlola Presidential Monitoring programme and its Youth Month programme, which focused on education, skills development and job creation.
"We received complaints from students about the dilapidated state of bedrooms and bathrooms in the female residence. We also received complaints about taverns that operated at the entrance of campuses, hence it was important for us to come and personally see what is happening," said President Zuma.
He interacted with students and toured both the male and female residences. Students expressed their discomfort about the poor living conditions and a lack of proper security.
Students also raised the challenge of funding to pay for their studies, a challenge faced by many of the country's youth.
"We are happy that young people are hungry for education in our country in this manner and we as government need to respond to this challenge positively," said President Zuma. 
Lindokuhle Manne (18), a first year Business Communication student, said her main concern was financial aid.
"Not many students get access to the National Student Financial Aid Scheme. This affects us in a big way," said Manne.
Bethesda Fountain Church
The President also visited Bethesda Fountain Church, which has become a sanctuary for students who cannot find accommodation or cannot afford to live on campus.
The church accommodates about 70 students. One such student is 20-year-old Nkosingiphile Sibeko.
"The church members are great people and have shown us nothing but kindness," said Sibeko.
Youth empowerment
The President's last stop was the Botho Socio-Psychology Centre, a youth skills development centre that has been adopted by the university. 
"The centre has over the years helped many of the community's youth to acquire certain skills and transform their lives by taking them off the streets and giving them an opportunity to better themselves," said Centre Manager Stevens Lodi. 
The centre, which offers different courses, is funded by the Department of Social Development and offers its services to youth between the ages of 18 and 35.
Comfort Mnisi (21) joined the centre early this year and has already completed a course in social life skills development and is currently doing his computer skills training.
"Before I came to Botho I had nothing to do. Now I have a purpose in life and with the skills acquired here I will be able to move forward in life," said Mnisi.
Government intervention
Government departments and institutions have been working to respond to complaints by students in different ways. These include: 
The Department of Labour created a database that registers unemployed youth and providing job placement help through Employment Services Practitioners in the area.
 The South African Police Service introduced an internship programme for 15 students.
President Zuma urged the community to assist students by providing accommodation, saying that many are willing to pay rent if they find suitable housing.
The visit proved to be a success in many ways as key interventions and progress were observed and announced.