Written by Thandeka Ngobese
Communities in KwaZulu-Natal (KZN) will soon experience faster and more effective emergency medical services. The KZN Department of Health has over 63 brand new ambulances to improve the quality of service it offers to citizens.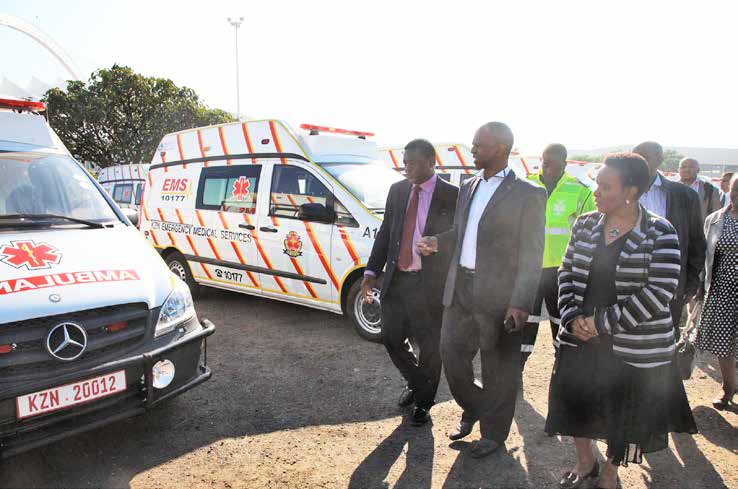 Speaking at the handover ceremony in Durban, Health MEC Dr Sibongiseni Dhlomo revealed the 63 Mercedes Vito 116 CDI high-roof ambulances cost the department R35.5 million. The ambulances have been fitted with equipment that cost R5.8 million.
MEC Dhlomo said the department always strives to have a sufficient number of ambulances to meet demand, hence the introduction of the new ambulances.
"We are a province that is home to more than 10 million people which amounts to 21 per cent of the population of the country and 80 per cent of these people depend on the public health sector for their medical and health needs.
"Our Emergency Medical Service (EMRS) is the largest emergency medical service in the country, operating more than 300 ambulances and having more than 2 500 paramedics in its employ," explained MEC Dhlomo.
He said Emergency Services is one of the three core pillars of health service delivery alongside primary health care and hospital services. This component is crucial in attaining the core outcome of government which is to ensure a long and healthy life for all South Africans.
"Paramedics are usually [the] first healthcare professionals to arrive at the scene of an accident or homestead of a sick patient and quickly assess the situation and determine the proper course of action for that individual. We see investment in new ambulances as a means to enhance the working environment for the sector whose nature of work is characterised by emergency and urgency," added MEC Dhlomo.
The new ambulances will top up and in most cases replace the current ambulances that the province has.
"In 2012 we replaced all operational ambulances with 386 new fully equipped ones. With wear and tear taking its toll, some of those have to be removed from operations due to repairs that are beyond economical usage. In that lot, we also lost 20 of them due to accidents," said Nkatheko Sithole, the Provincial Head of EMRS.
The distribution of these new ambulances will be determined by the population size per district as well as the number of those that are operational. Amajuba district will get four, eThekwini district-eight, Harry Gwala district-five, Ilembe district -seven, Ugu district five, Mgungundlovu district six, Mkhanyakude district five, Mzinyathi district six, Thukela district five, Thungulu six and Zululand six.
MEC Dhlomo concluded his address by calling on communities to take care of the new ambulances.
"We make a strong appeal to our citizens to own and safeguard this property made available to assist those requiring emergency medical care."