Written by Hlengiwe Ngobese
The future looks bright for young scientist Phemelo Motloba from the North West.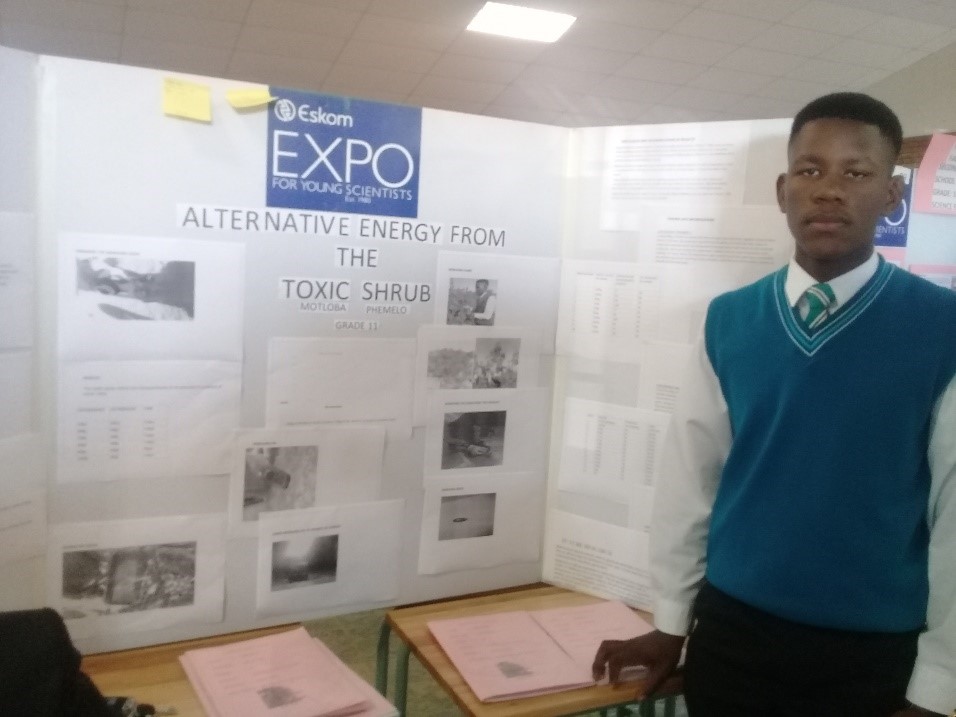 Motloba (17), from rural Lagkraal in the North West, will be competing for a chance to win first prize, when he represents his region at the International Science Fair (ISF) in October. 
This after the Grade 11 learner from Sedibelo Secondary School found a way to generate electricity from a local plant known as Mokura (the castor-oil plant or ricinus communis) by extracting oil from it.
The plant, which can be found in all provinces, is extremely poisonous, and competes with indigenous pioneering species, especially in watercourses.
Motloba got the idea to investigate how this plant can be used more usefully after noticing how local community members regularly cut and burnt it down.
He entered his project into the Bojanala Regional Eskom Expo for Young Scientists and titled it "Alternative energy from the toxic shrub" which proposes and shows how it can be put to good use.
"This is not my first time entering the competition. I have been competing in the Eskom Expo since 2014, but this is the first time that my project has received gold medals both at district and regional level. My perseverance has yielded good results," he said.
The Bojanala Regional Eskom Expo was established in 2003 and is one of 35 regional expos held annually in all provinces in South Africa. Motloba was one of 203 learners from all over the province who filled up the Tlhabane Resource Centre.
"This year, the region has gained nine new schools. Of the nine schools gained, five are from deep rural areas of the province with limited resources. The biggest highlight was that 23 of the schools that participated at regional level have been participating for the past three years without fail," said Eskom Expo Provincial Coordinator, Mmabatho Moloedi.
Through the expo learners are exposed to the exciting world of science and the many career opportunities in Science, Technology, Engineering, Mathematics and Innovation.