This year we have dedicated the Month of October to commemorate of the life and legacy of President Oliver Reginald Tambo - a leader, revolutionary, strategist and a visionary. During his lifetime Tambo stood for the unity of our nation.
Born in a rural and underdeveloped village of Nkantolo in the Eastern Cape Province, President Tambo is respected globally for his work ethic and desire to liberate South Africans from the yokes of colonial and apartheid regimes. This he did by living a selfless life. He sacrificed his family, his loved ones and his country to lead with an incomparable vision for a better South Africa we live in today.
OR Tambo lived and yearned for a South Africa that is free from poverty, hunger, strife, child and women abuse as well as many other scourges that Government continues to tackle head on through many of its programmes.
On the sidelines of the 72nd Session of the United Nations General Assembly in New York on 20 September 2017, I hosted, on behalf of South Africa, Heads of State and Government as well as other dignitaries at the Centenary Anniversary Reception in honour of this global icon of the struggle against apartheid in our country.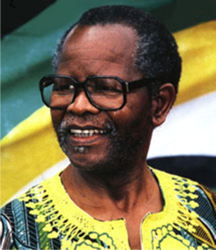 A major celebration is also scheduled to take place on 27 October on the birthday of OR Tambo.
October is also one of the busiest months on the calendar of Government to deliver services to our people.  First, it marks a time in the financial year circle where we deliver the medium-term budget policy statement. Second, and equally important, this is the time when we take Parliament to the people through unmediated interaction with constituencies and the communities that elected our public representatives.
Thirdly, October is also our Breast Cancer Awareness Month, and we will be making a call to all our citizens to take necessary precautions to prevent breast cancer, among others, and spread the message about this disease.
Finally, this month has also been designated by the Social Development Department as the period during which we reach out to meet and interact with the poor citizens of South Africa, who rely on the Department for their livelihood and sustenance through a number of social grants. Through our reaching out to poor communities, we seek to address the triple challenges of poverty, unemployment and inequality under the theme, "Working Together to Build Caring and Sustainable Communities for All."
This year, Social Development Month will officially kick-start with International Day of Older Persons which is celebrated annually on 01 October. The day will be officially commemorated in Ga-Rankuwa Township, in the Gauteng Province, under the United Nations theme, "Stepping into the future: tapping the talents, contributions and participation of older persons in society."
The Department of Social Development is working together with its entities, the South African Social Security Agency (SASSA) and the National Development Agency (NDA) to support government's initiative of restoring the dignity of our people throughout the month. The aim is not only to meet and engage rural communities but also identify and fill poverty gaps which were caused by among other factors, legacies of colonialism and apartheid, and marginalisation from resources. This is conducted in line with government's commitment to address the high levels of poverty, underdevelopment and malnutrition.
Our government acknowledges that poverty remains one of the worst human tragedies in the world especially in the African continent. Despite its status as Africa's most advanced economy, South Africa, similar to its poor neighbouring countries, is still battling with high levels of poverty, unemployment and inequality. In the fight against poverty, the Department of Social Development continues to implement programmes that prevent inter-generational transmission of poverty by working in partnership with Non-Governmental Organisations (NGOs), among others.
Through the department, Government reaches out to rural and poor communities via Project Mikondzo. Project Mikondzo is a service delivery tool that aims to improve the lives of ordinary citizens. Through this project, government also encourages women to unite and form cooperatives so that they can access funding through the Department of Small Business Development. The department makes big invests in cooperatives to grow our economy as well as for cooperatives to make a difference in the lives of unemployed women as they become economically empowered.
In addition, the protection of vulnerable groups, in particular, women, children and people with disabilities remain the central focus of government's objectives of improving the living conditions of the poor this month, while also emphasizing that it cannot be the sole responsibility of government to shield, embrace and protect vulnerable South Africans. It is a task that we must perform, working together with the private sector as well as non-governmental organisations.
We therefore call on all South Africans, in particular, parents, teachers, as well as members of the South African Police Service, Teachers, Child Caregivers, Guardians, NGOs and Faith Based Organisations to play their part and contribute towards the protection of vulnerable women, children and persons with disabilities.
We would like to call on all South Africans to work together with Government to uplift our people from poverty, fight inequality and create more jobs for our people in the Month of October in the spirit of our late leader Mr Oliver Reginald Tambo.