written by Ongezwa Mogotsi
October is a special month in South Africa. It's a time for South Africans to reflect on the life and times of the late Oliver Reginald (OR) Tambo, a leader who still commands respect the world over.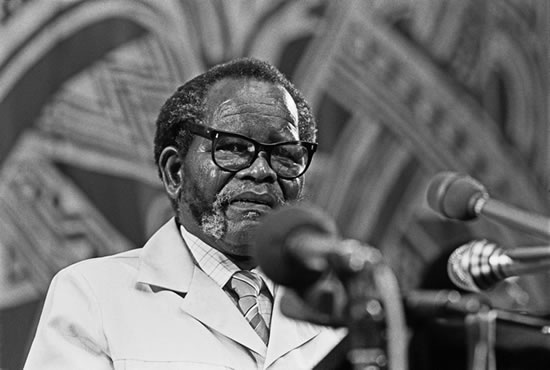 The year 2017 marks the centenary celebration of Tambo's birth. He played an important role in liberating South Africa and was one of the founding fathers of our constitutional democracy.
Government declared 2017 "The year of OR Tambo: celebrating our liberation heritage". A number of events will take place this month to commemorate the legacy and centenary of Tambo.
He served as president of the African National Congress (ANC) from 1969 to 1991, making him the longest serving president of the party. He also enjoyed over 50 years of political activism in the ANC.
A leader is born
Tambo was born on 27 October 1917, as Kaizana Tambo, in Nkantolo village in the Eastern Cape. His rural upbringing groomed him to become a hard worker with strong moral standards and values.
According to the Oliver and Adelaide Tambo Foundation, he changed the name Kaizana to Oliver after a teacher asked him on his first day of school to come to school with a new English name.
"His parents chose Oliver. This and a host of encounters with some of his first teachers' strict nature made him dread school. A chance meeting with an eloquent young man, who was a member of the debating society in a different school, changed his attitude towards education and ignited a love for discussion and debate," says the Foundation.
After school Tambo went to university. He graduated with a Bachelor of Science in Maths and Science from Fort Hare University. His life as an activist started at the university.
In 1942 while studying towards his postgraduate qualification in education, he was expelled from the university for participating in a student strike. When his former teacher heard of his expulsion he was offered a job as a Maths and Science teacher at St. Peter's College offered.
His political life
During his time as a teacher in Johannesburg, Tambo was an active member of the ANC. He formed the Youth League and became its first national secretary in 1944.
Four years later, he became president of the Transvaal ANCYL and national vice-president of the organisation in 1949. He was also elected as a member of the National Executive Committee of the ANC.
In 1951 Tambo made history when he formed the first black law partnership with his great friend, Madiba. 
Tambo led the ANC through challenging times. He was the  longest serving leader in places like London and Zambia where the party operated, until 1990 when the South African government lifted the ban on the organisation.
During his time abroad he was instrumental in establishing ANC missions in at least 27 countries by 1990. "He helped lobby support for the ANC and raised the international reputation of the ANC to one of great prestige," says the Foundation.
After spending 30 years in exile, Tambo and his family returned home. Upon his return he spoke at the first ANC meeting in South Africa since it's unbanning. He used the occassion to pass on the leadership baton to Mandela, who was elected as the National Chairperson of the ANC.
On 24 April 1993 Tambo died after a stroke.  
Source: www.tambofoundation.org.za
Celebrating a visionary leader
A series of awareness creation programmes, including educational and celebratory activities, will take place across the country in the build-up to 27 October 2017. Thereafter, several legacy projects will be delivered to Mbizana, Eastern Cape, to benefit the local community.
Oliver Tambo – A Timeline
•27 October 1917
Oliver Tambo's birthday.
•2 April 1944
Oliver together with William Nkomo, AP Mda, Walter Sisulu and Nelson Mandela founded the ANC Youth League.
•1 September 1944
Tambo elected the  ANC's secretary.
•24 July 1951
Tambo qualifies as an attorney.
•5 December 1956
Tambo arrested, charged with treason and detained by the apartheid government.
•20 December 1956
Tambo released on bail during the Treason Trial.
•22 December 1956
Tambo marries Adelaide.
•27 March 1960
Tambo goes into exile.
•1 May 1960
Tambo arrives in Denmark after being invited there by the Danish Prime Minister.
•10 October 1960
Tambo's first visit to New York.
•10 May 1963
Tambo leads an ANC delegation to Ethiopia for the formation of the Organisation of African Unity.
•10 October 1963
Tambo addresses the United Nations General Assembly Special Political Committee appealing for the freedom of all South Africans.
•25 April 1969
Tambo announces his resignation from the ANC at the Morogoro conference following personal attacks, but is persuaded to return.
•8 January 1985
Tambo calls on the South African people to 'Render South Africa Ungovernable'.
•14 December 1990
The Tambo family returns from exile.
•23 April 1993
Tambo passes away.
Source: www.tambofoundation.org.za