As part of eThekwini Municipality's women empowerment programme, 15 young women are now qualified carpenters after they successfully completed a five-week furniture making and upholstery training course.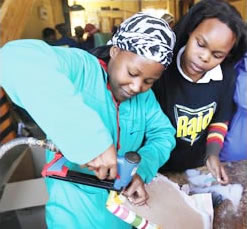 The group was exposed to furniture making skills for chairs, side tables, pedestals, picture frames and couches. They were also taught technical drawing, material cutting tips, how to choose fabric and were given tips on health and safety in the workplace.
Sanelisiwe Mtshaka (24) from Ward 14 in Dassenhoek said: "I still cannot believe that I manufactured a chair and other furniture on my own. It has always been my dream to be involved in furniture making."
The training was sponsored by the Municipality's Business Support, Tourism and Markets Unit and was facilitated by Injiya Training and Projects who have years of experience in the sector.
The Municipality's Business Development Manager Nonku Mthembu said the training is part of the City's commitment to empower the youth and women.
"To further showcase the beneficiaries' final products, we will sponsor them to exhibit in the upcoming Durban Business Fair during the Essence Festival."
Mthembu said this platform will market the beneficiaries' work to more than 60 000 national and international delegates expected to attend the festival.
This, said Mthembu, would result in business linkages. Mandla Luthuli, founder of Injiya and tutor said the group was very committed.
"The fact that they were able to do so much in a space of five weeks proves the determination of our youth when given an opportunity."
Deputy Chairperson for the Economic Development and Planning Committee Councillor Nkosenhle Madlala said: "To demonstrate our commitment in empowering women, the committee recently set aside R1.3 million for 2017/18 financial year towards their development."
Councillor Madlala said they want to see more women working in male dominated sectors hence the Municipality was facilitating training opportunities such as furniture making. He said this is one of the City's efforts to address inequality.
*Nonduduzo Ngcobo works for the eThekwini Municipality.