Written by Thandeka Ngobese
A young KwaZulu-Natal (KZN) doctor has made history. Dr Sithembile Ngidi (31), the daughter of a nurse and a farmer from Gamalakhe in Port Shepstone, made the province proud when she graduated from the Colleges of Medicine South Africa as the province's first-ever black female oncologist.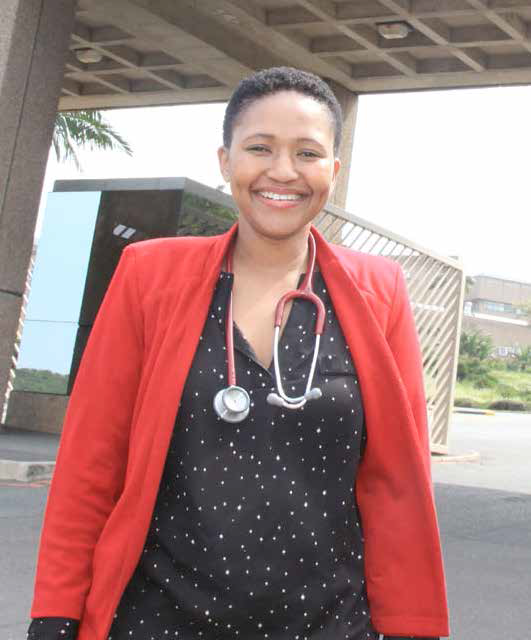 An oncologist is a doctor who specialises in treating people with cancer.
 Dr Ngidi, who now works at Inkosi Albert Luthuli Central Hospital, completed her  studies through a bursary that she received from the KZN Department of Health.
A self-confessed bookworm and nerd, Dr Ngidi, who got four distinctions in matric, credits the KZN Department of Health for her success.
"I had academic colours in high school. I applied for a bursary with the KZN Department of Health. That was a huge relief as I got sponsored to fulfill my dreams.
"I'm a specialist today because I got a helping hand from the department. I believe that people need to know that these opportunities do exist," said Dr Ngidi.
After completing matric, she studied medicine at the University of KwaZulu-Natal's Nelson Mandela School of Medicine from 2002 until 2006. 
She then completed her two-year internship, followed by one year of community service. She then worked as a medical officer at the ARV clinic at the KwaMashu Polyclinic in 2010. She obtained a medical officer post in oncology later that year. In 2012, she got a registrar post at Inkosi Albert Luthuli Central Hospital in radiation oncology.
The mother of two believes that healthy lifestyles and regular health screenings help to lessen the impact of non-communicable diseases such as cancer.           
"It concerns me that too many people tend to come too late to get a health check-up. Some are embarrassed to seek healthcare due to stigma. So what we always preach is that if you feel a lump, don't waste any time, get it checked."  
She also attributes her success to nothing less than sheer hard work and having a plan and sticking to it.
"It's always good to know from the word go what you want in your life. My parents taught me that you can accomplish any goal, so long as you put your mind to it. I thought to myself, there's no black female oncologist in KZN. That's where I want to be," she said.
Dr Ngidi has her sights set on completing her Masters in Radiation Oncology next year. She hopes her life story will inspire others who might want to follow in her footsteps.
Her advice to the youth is not to be afraid and to work hard to achieve their dreams.
"Nothing comes easy. You need to be prepared to work for it. If you want to be a doctor, study hard, and pick the right subjects. You must have goals and dreams. For me, that's the essence of life," she said.
KZN MEC for Health, Dr Sibongiseni Dhlomo, congratulated Dr Ngidi on her achievement.
"Educating a girl child is such an investment for the country but for Dr Ngidi, it is even more special. She is the first female oncologist in the province and second in the country.
"Our province will be placed in a unique position with this achievement. As the
Department of Health and KZN government, we are proud of her achievements and we would do anything to support and to see her dream achieved."