The lives of more than 50 young people from the rural areas of Pongolo and Nongoma in KwaZulu-Natal (KZN) will change for the better after they received training from the Siyazenzela Youth Development Programme.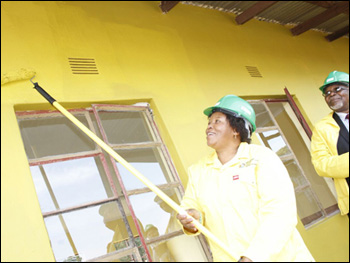 Siyazenzela is an initiative of the KZN Department of Education that aims to equip unemployed youth with skills that will enable them to provide for themselves and their families.
Speaking at the graduation ceremony held recently, KZN MEC of Education Neliswa Nkonyeni said the programme responds directly to the needs of the economy.
"We are determined to see our youth taking charge not only of their future, but being active participants in the growth and development of the province's economy. These young people were trained in a variety of skills, including plumbing, plastering, carpentry, roofing, painting, glazing, floor plastering and tiling, welding, electrical and fencing," she said.
 MEC Nkonyeni said now that they have completed their skills development programme, the youth  have been recruited by the Department of Education to work in KZN schools.
"The skills acquired by these youth will be used to refurbish our schools. We've discovered that there are 308 non-facebrick schools in Pongolo and Nongoma. These schools will be the sites on which the beneficiaries of the programme will be working," she said.
MEC Nkonyeni said the 51 graduates started working at these schools in January 2016. They were provided with protective clothing, tools and vehicles bought by the Department of Education. 
The MEC said the department would continue to provide the people of KZN with school infrastructure.
"Already we have spent over R2, 636 billion  in the past 10 years on a variety of projects in the Zululand district alone. Indeed, many schools are now way better than they were in the past," said MEC Nkonyeni.
One the beneficiaries, Nombulelo Mkhize, thanked the department for giving them these skills. "I heard about the opportunity from my ward councillor. I was sitting helpless at home without a job," she said, adding that she has now been given the opportunity to provide for her family.
Another beneficiary, Nozipho Khuzwayo, said she was trained in carpentry, a course that took two months. 
"I will now be responsible for repairing school furniture or making new furniture if there is a need.  I will use my first salary to buy my mother a new bed," she said, adding that the benefits of the programme were already felt by her family during training, because trainees were paid a monthly stipend of R1 500.
MEC Nkonyeni encouraged the graduates to use the opportunity given to them wisely.
"I urge all of you to stay focussed and to follow your dreams. The Department of Education will continue to support all the initiatives that seek to develop the youth of KZN. We wish you all the best and hope that you will be outstanding ambassadors of the Siyazenzela Youth Development Programme."