International relations
South Africa's trade with Brazil, Russia, China and India may have mushroomed in recent years, but Minister of Trade and Industry Rob Davies says it's still too early to talk about a free trade agreement among the grouping.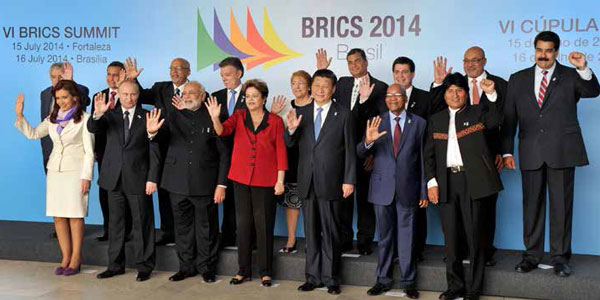 Free trade is trade between countries, free from governmental restrictions or duties.
Intra-Brics (Brazil, Russia, India, China and South Africa) trade has increased steadily over the last three years. In South Africa trade data from the Department of Trade and Industry (dti) reveals that between 2010 and last year South Africa's exports to its Brics partners increased by 76 per cent to R155, 3 billion, while imports from the grouping were up 95 per cent to R225, 5 billion over the same period.
South Africa's exports to Brics countries last year accounted for 16,7 per cent of the country's total exports, up from 13 per cent of all exports in 2010. In contrast South Africa's imports from Brics as a percentage of total imports grew from 19 per cent to 22, 6 per cent over the same period.
With so much trade now flowing through Brics the case for a free trade agreement may seem a reasonable next step in bolstering trade relations among members of the bloc, but Minister Davies is cautious.
"Some people talk about it (a Brics free trade agreement) from time to time, but our (South Africa's) view is that it is quite premature," said Minister Davies from the 6th Brics Summit held in Fortaleza, Brazil, in July.
He said without strong support and the addition of non-trade measures, member countries would not realise the full benefits of a free trade agreement.
Brics trade ministers believe that for trade to flourish between emerging economies, these countries should buy more sophisticated goods from one another. Their concern is that there is too little value-added trade between the members.
For example South Africa has a significant canning and beverage industry, but last year just three per cent of prepared South African foodstuffs and beverages went to Brics countries.
Added to this, a report last year by the Industrial Development Corporation (IDC) revealed that South Africa's exports to India and China are "highly concentrated" with them dominated by minerals commodities, mainly iron ore, concentrates and coal.
It's not just South Africa. Brazil's National Confederation of Industry points out that more than 70 per cent of Brazilian exports to its Brics partners consist of soya, iron ore and oil, whereas manufactured goods comprise 95 per cent of Brazil's imports from these countries. Brics members are considering ways to counter this, having completed a joint trade study of recommendations for promoting valueadded exports among member countries.
Minister Davies said the study, which was handed to Brics trade ministers during the summit, details the different value-added activities in which each Brics member has a comparative advantage and also list a series of measures that need to be addressed to increase trade in valueadded goods and services between Brics members.
The trade ministers have instructed the group to continue working on its recommendations.
The summit also saw the signing of a memorandum of understanding on cooperation among Brics export credit and guarantees agencies. The agreement will allow two agencies to cooperate in providing support for a project in a third country which involves the supply of goods and services from Brics countries.