Written by Nthambeleni Gabara
Sport, arts and culture
Sport Minister Fikile Mbalula says Team SA's outstanding performance at the 2014 Commonwealth Games in Glasgow is a clear indication that sport in South Africa is on the rise.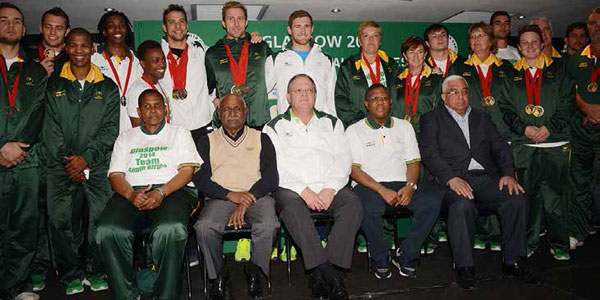 "This is [one of the most] outstanding performances by our athletes since the dawn of democracy in 1994 and we can proudly say that we've entered the era of hope that sport in South Africa is on the rise. We are looking forward [to] our athletes competing in the 2016 Olympics in Rio de Janeiro," he said.
Minister Mbalula was speaking at an event celebrating South Africa's medal winners at Nelson Mandela Square in Sandton recently.
Team SA clinched 40 medals in Glasgow. Thirteen gold, 10 silver and 17 bronze medals were paraded through the streets of Johannesburg in an open top bus.
Much to the thrill of the medal winners' fans, who came out in their numbers, Minister Mbalula said: "You don't put mediocrity in an open top bus. We put people of substance and winners, and these are winners - they deserve it. They made all of us proud and they are our good ambassadors.
"We are saying to our athletes and the generation to come: if you win, this great country will give you due recognition. Today, we are a winning team because of them, so we cannot have their celebration anywhere else but facing Nelson Mandela's statue because Mandela represents progress, winning and humanity.
"Sport is about the fight of the human spirit. That is why we are here today."
Minister Mbalula expressed confidence that Team SA's winning spirit will reverberate across the national teams.
However, the celebrations took place without Team SA's swimmers, who were all in Pietermaritzburg for the Final World Short Course Championship qualifiers.
Minister Mbalula presented the medal winners, the majority of whom were represented by their family members, with cheques.
The team finished seventh on the world medal standings and first on the Africa continent. Swimming produced 12 medals in total, including three gold, three silver and six bronze.