For many years children from Mvezo village in the Eastern Cape – the birthplace of former President Nelson Mandela – were forced to drop out of school after passing Grade 9.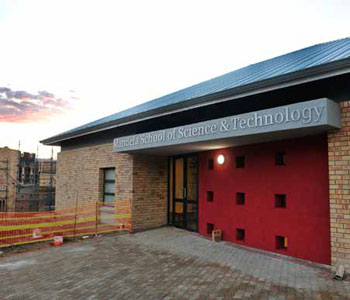 This was because the village did not have a high school. For those who wanted to pursue education beyond Grade 9, it meant travelling to neighbouring towns such as Mthatha and Idutywa.
But the Mandela School of Science and Technology, which opened its doors in Mvezo earlier this year, is changing the lives of many of its pupils. It's the first comprehensive science high school in the entire rural Transkei that offers subjects like engineering and information technology. Now, government believes more similar schools are needed in rural areas.
President Jacob Zuma, who unveiled a statue of Madiba's grandfather, Prince Mandela, at the school recently, had nothing but praise for the school and its staff.
President Zuma said government was serious about ensuring that all children in disadvantaged communities were exposed to science and technology at school.
The idea for the school was born when Madiba said he wanted a high school built in his birthplace. In 2010, telecommunications giant Siemens pledged million of rands towards the school's construction.
"Nelson Mandela was serious about education, it is something that was close to his heart and he wanted to see South Africa succeed," President Zuma said.
The statue, which stands in front of the imposing building, depicts an image of Prince Mandela, son of King Ngubengcuka of the Thembu nation.
School principal Pat Toni said the school had brought about many changes to the community.
The school has four laboratories, a library, information technology department and an agricultural science department.
"We have very highly qualified teachers for science and mathematics. I think what the school has brought to this village is quality education - something unfortuthenately that children in rural areas are not used to," says Toni.
Toni says the statue of Prince Mandela, unveiled by the president at the school, symbolises the active role that is being played by the community within the school.
"It also directs the school towards its roots. The school didn't just appear; it has its roots embedded in the Mandela legacy.
"The community has embraced the school. We are receiving hundreds of applications and we cannot cope with the demand. Whenever we have a meeting, we have a full hall and the support is amazing."
The school will have its first Grade 12 class in 2016 and Toni says several universities have committed to grant bursaries to all deserving pupils from the school.
There are also overseas universities that are lining up to take matriculants.
"For these reasons, our emphasis is on mathematics and technology because we know the expectation is very high and we are aware that these subjects will open many opportunities for our pupils," Toni says.
One of those who is grateful for the school is Nothobile Mapeyi. Her granddaughter Zukiswa was forced to leave home to stay with her aunt in Mthatha after she passed Grade 9 in 2012. But now Zukiswa will be able to do her matric at the Mandela School of Science and Technology and live with the family in Mvezo.
"It's something that really makes me happy. I was not happy when my child had to leave but we had no choice because I wanted her to continue with her studies. Now we have this good school at our doorstep. The future is looking bright for her," says Mapeyi.