Disability Awareness
George in the Western Cape has been dubbed one of the friendliest cities for people with special needs.
Access to public transport is often a challenge for people with disabilities, as many buses and minibuses do not have the facilities needed to transport passengers with special needs.
Municipalities around the country are now jumping on board to solve this problem. And the George Local Municipality is setting new standards for how public transport systems can be of service to to people with disabilities.
Funded through a grant from the National Department of Transport, the GO GEORGE bus rapid transport (BRT) system currently has a fleet of 35 minibuses, 36 standard buses and 33 midi buses. All of these vehicles are equipped to accommodate wheelchairs.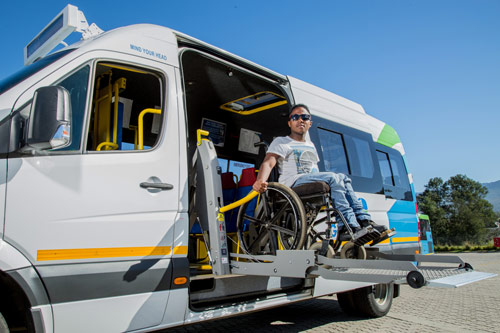 The standard and midi buses are equipped with electronic ramps, special seating and other standard features. Special attention was put into the minibuses, which, at the time of rollout in 2015, were the first in South Africa to feature a hoist system to lift up passengers with wheelchairs. They also have a wheelchair bay and doors operated by hydraulics, making it easy for disabled passengers to get into the bus. 
"This is the only bus service in South Africa that is completely accessible," said GO GEORGE manager James Robb.
"This is one of the key pillars of the GO GEORGE system. It is critical that every single person in George has access to public transport in order to access opportunities for work, shopping, religion, recreation and services such as healthcare.
"Passengers with special needs appreciate the consideration of their needs and day-to-day struggle to get to places away from home, and the independence that comes with travelling on their own."
Rodrique Felix, one of the users of the bus service, was involved in a motorcycle accident 18 months ago. He is currently confined to a wheelchair but says that the bus service has made it easy for him to get to hospital.
"In fact, the entire city of George is extremely wheelchair friendly, which is a great advantage," Rodrique said.
The municipality also has a number of other support systems in place for people with special needs, including a read-speaker function on the municipal website that converts text to speech.