Written by Allison Cooper
Khayelitsha's first low-fee private school for girls Molo Mhlaba believes that people living in poor communities deserve safe, affordable and quality education.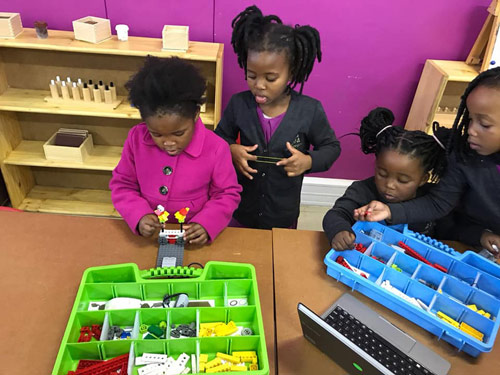 Plagued by escalating crime, poverty and inequality, it was tough to find good education for girls in a safe environment in the Khayelitsha township. This is no longer the case as Molo Mhlaba is steadily closing the gap by offering quality education that can set girls up for life.
Headed up by Dr Rethabile Sonibare, Molo Mhlaba – which means 'hello' world in English - opened its doors with a mere handful of learners aged between three and six in January 2018. A short ten months later, it has 38 foundation phase learners in its charge.
Inspired by the Montessori approach and a fun, playful and creative environment, the school provides quality science, technology, engineering, art and design and maths (STEAM) education, through innovative teaching and learning strategies, by teachers from the community. It is a dual English and Xhosa medium school.
"As a STEAM school, we offer subjects such as robotics and coding to three and four year olds," Dr Sonibare confirmed.
In an area where sexual abuse is one of the biggest social ills, Molo Mhlaba provides a safe haven and enables young girls to be themselves without having to fit into specific gender norms.
"Our classrooms are named after women from the continent to celebrate their legacy, which is often not told.
"Women are hidden figures in our history. They are citizens but are never considered as such. We are always considered second-class citizens, but we are full citizens and we want this school to provide a space for women to actively take part in citizenship," Dr Sonibare said.
The school has already had a massive impact in the community and parents have to spend a certain number of hours a year actively assisting the school and supporting their children.
Molo Mhlaba is the brainchild of Sonibare, her colleague Athambile Masola and board members of a non-profit organisation that the two women established called the Thope Foundation.
"The idea grew from an after-school programme we devised and ran for Khayelitsha girls, focusing on science and technology. But we soon realised that not all of them had access to quality education," said Sonibare.
"That's when we started talking about a school that offers not only quality education, but that encourages girls to be passionate about freedom and independence as well," she added.
Although the school is private, its school fees are minimal. Molo Mhlaba has received some grant money and is hoping to qualify for education subsidies in 2019. It also conducts its own fundraising campaigns.
Looking ahead, the school has applied to the Department of Education to offer classes up to Grade 7. "We also aim to open ten Molo Mhlaba schools in the next ten years," Dr Sonibare confirmed.