Union Buildings

Unemployment is the biggest challenge facing our country and it has a devastating effect on the economy and communities.
One of the main contributing factors to unemployment is an economy that has not been inclusive. This means that most people don't have the opportunity to own assets or develop skills. When you want to start a business for example, you need cash.
Historically, this means those who have access to capital and property will always be at an advantage.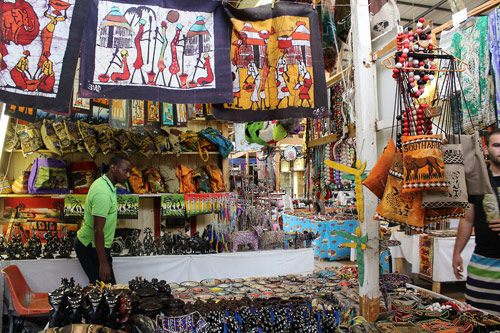 While progress has been made in lifting millions of people out of dire poverty, many South Africans still face great hardship.
The jobs that have been created over the past few years have not kept pace with the growth of the population or the expansion of the workforce. 
South Africa's Gross Domestic Product needs to grow at a minimum of three percent per year to create basic jobs for people. Because our growth rate is less than 1.5 percent this has become a real problem.
However, we are rising to the challenge of unemployment by working together, as we did at the recent Presidential Jobs Summit that brought together government, labour, business and community-based organisations.
The Summit was fruitful and proved that by working together we can make progress in eradicating the burden of joblessness.
At the end of the Summit, we signed agreements that have the potential to create about 275 000 jobs per year.
The framework agreement and the Summit deliberations will provide hope and dignity to unemployed South Africans and inject new energy into the economy, alongside government's recently announced economic stimulus and recovery plan.
Some of the agreements include the following:
■ Investment of R100 billion (over five years) in black enterprises and firms in the industrial sector.
■ Bizniz in a Box Youth Empowerment Programme to equip young people with entrepreneurial skills and actual business opportunities.
■ Companies will buy goods and services from South African businesses – big and small - to create more jobs and save those that already exist.
■ Finfind youth employment and SMME funding to provide training for unemployed youth.
■ R1.5 billion for a new Smallholder Support Fund and R1.5 billion for the Township Enterprise Fund.
■ Various interventions to create career pathways for the youth through programmes at TVET Colleges, the Installation Repair and Maintenance Initiative, and in the fields of health and, travel and tourism.
■ Expansion of a Hub Model and incubators for SMME development.
■ Harambee, working with all social partners, will strengthen its pathway management system to ensure that 1.5 million young people are part of an active network of work seekers and, that 500 000 young work-seekers are able to enter first jobs or on pathways to generating an income to sustain themselves.
■ Making sure that government sticks to its promise to spend 30 percent of its procurement on SMMEs and cooperatives.
■ Strong focus on Early Childhood Development (ECD), including the KYB Enterprise Incubator, to support women-owned ECD centres.
■ Building of 48 human settlement projects which will provide 635 0000 housing opportunities by 2019.
Social partners also made firm commitments to strengthen the Buy South African campaign by encouraging all citizens to support local business by buying goods that are manufactured in our country.
By doing this we will be playing our part in creating the environment that we believe will grow the economy.
The Buy South African campaign will also motivate government and the private sector to buy locally made products, which increase domestic demand and creates more jobs.
The Summit was just the beginning. Just a few days ago we held an international investment conference in our quest to create jobs in our country.
The investment conference is part of the drive to get $100 billion in new investment – by international and domestic investors - into our economy over the next five years. South Africa is a good destination for investors and we are looking to make it easy for investors to invest so that they can create jobs.
You can also play your part in improving and growing our economy. The most important contribution every individual can make is to buy locally produced goods by, for example, choosing to purchase fruits and vegetables grown in South Africa help to grow the agricultural industry.
It is equally important for South Africans to support the small business sector. Support entrepreneurs in their endeavours as small and micro enterprise are central to inclusive growth and job creation.
Together we can unlock the full potential of small and micro enterprises through increased localisation.
Local is not just lekker. Local saves businesses, jobs, lives, families and communities.
Look out for our flag or "made in South Africa" when you're out shopping.