Written by Galoome Shopane
Snakes are among the most feared and misunderstood of all animals, but a Mpumalanga-born man is determined to change the myth that 'the only good snake is a dead snake'.
With a pet boa constrictor called Cecilia, it is little wonder Harry Baloyi (34) has earned the nickname "Slangman".
Baloyi is committed to changing perceptions about snakes and his job at the Bloemfontein Zoo gives him the perfect platform to do so.
Baloyi was introduced to reptiles by his grandfather who bred snakes and crocodiles.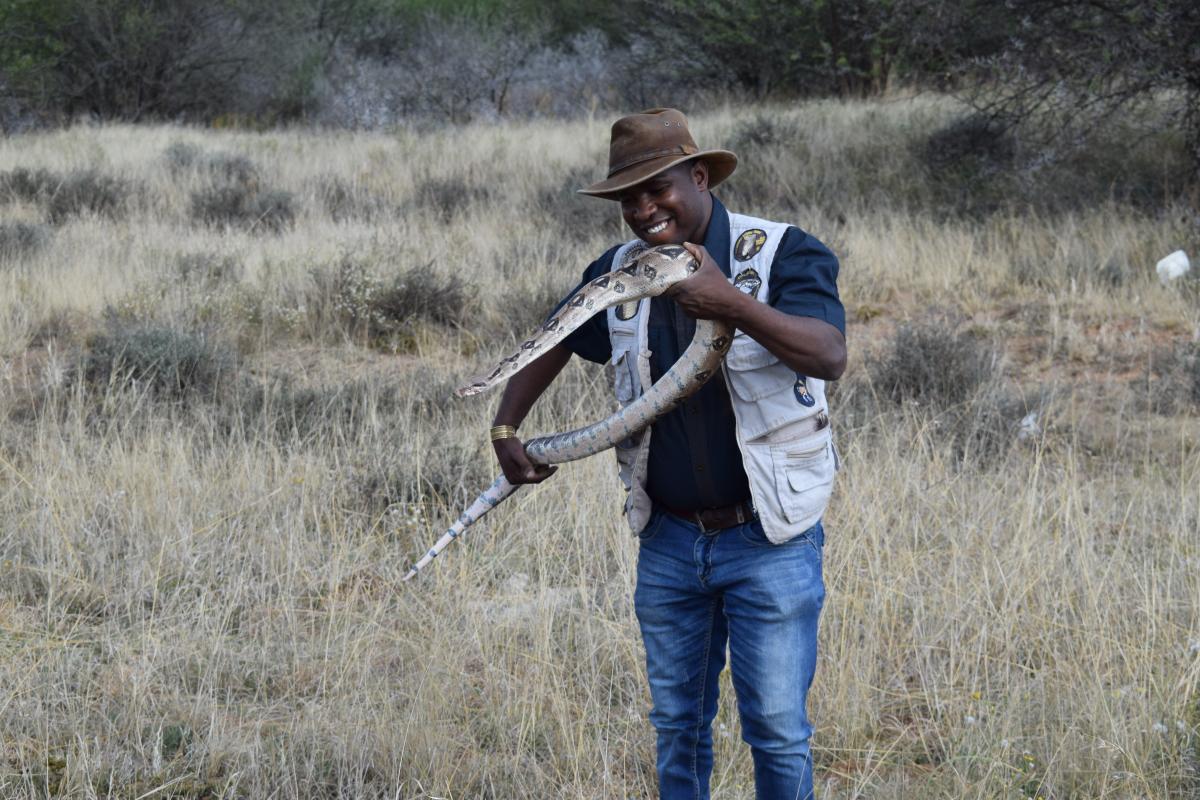 "My family is part of a community that lives near the Kruger National Park and I became a student guider at around 13 years old."
Baloyi has been bitten many times but says only three were significant because the other bites came from "baby snakes who didn't know what they were doing".
"I have been bitten by a cobra a puff adder and an African rock python but I'm still here and my love for snakes hasn't changed," he explained.
As the temperatures rise, snakes become more active. Baloyi advises that if you are bitten by a snake, you should seek medical help as quickly as possible. He strongly advises against using a tourniquet (a tight, restricting bandage or piece of cloth) to prevent blood flow because the resulting concentration of poison may lead to an amputation.
According to Baloyi, Math, Science And Biology are compulsory subjects if you want to become a herpetologist like him.
A herpetologist specialises in the study of amphibians which include reptiles.
Working with reptiles has taught Baloyi the importance of treating animals in a humane and respectful way.
Among his many achievements, Baloyi was named the Best Reptile Keeper in 2008 by the National Zoo and he was the one who found the black mamba that was lost at Pretoria Zoo in 2013.
Baloyi's future plans include running an institution that preserves and breeds reptiles while teaching members of the public more about these interesting but often feared creatures.
He said that his love of snakes can be compared to his love for his children and he is certain that creating awareness about them is his God-given purpose.
"People don't realise that animals are beings created by God, hence they treat them with cruelty.  Snakes are not evil.  They are part of the ecosystem; if they weren't there, the ecosystem would be incomplete.  Mice would run havoc and as human beings, we would get very sick because both humans and rats are mammals and we can pass diseases easily between each other.  So in essence, snakes help keep us safe," he said.