For over 40 years Bonelwa Mbambatho has lived in Radway Green Farm outside of Grahamstown in the Eastern Cape.
The 45-year-old has never owned a house before and has been living on the farm since she was born. For a long time she and other farm dwellers endured freezing temperatures, floods and unfriendly weather conditions. Theirs was a struggle for a place they could call home.
Mbambatho's dream of owning a house finally became a reality when she and her fellow farm dwellers were handed the keys to their new houses by the Minister of Rural Development and Land Reform Gugile Nkwinti recently.
The houses were built in line with the department's Comprehensive Rural Development Programme, which aims to build social cohesion in rural areas and facilitate development, especially in farming communities.
The department bought a 53 hectare piece of land from the owners of the farm, following a conflict between the farm dwellers and the new owner.
The department stepped in, bought the farm and built houses for the farm dwellers.
One of the farm dwellers is Mbambatho who is now a proud owner of a four-roomed home.
Initially, the government was to build 18 houses on the land, but decided to build extra houses for bigger families, including adults who were living with their parents. This brought the total number to 27.
All houses are eco-friendly and come with solar geysers, solar power units, sanitation systems and rain harvest drums. There is also a borehole on the land for the residents to get water.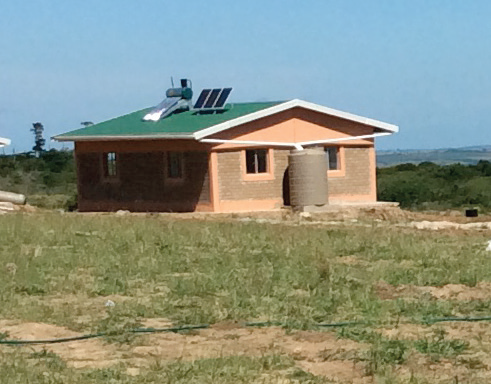 Each house has two bedrooms, a lounge, kitchen and bathroom. Mbambatho currently lives with her three children.
She said her life has improved since she moved from the goods container that she used as shelter for over four years.
"I can now have visitors to my house, unlike when I was still staying in the container. We could not do anything because everyone was cramped in a small space in the container."
She said it was difficult during rainy days as water would get into the container and it was very hot during summer.
"I don't know how I can thank government because it has always been my dream to own a house. I am grateful for what the department has done for us," she said with a smile.
A few metres away from Mbambatho's house is the brand new house of 58-year-old Zilindile Onceya. He will share his two-bedroom house with his wife and six grandchildren.
"In the beginning, it was really bad," said Onceya, who has lived on the farm since childhood.
"What makes me very happy is that I know I will die in this house and my children will have a place to call home even when I'm gone," he said.
He added that his grandchildren are enjoying the new house, especially having an inside bathroom.
"They like bathing in a bath. I think they enjoy the sound of water coming out of the tap."