The City of Joburg is going full-steam ahead to meet its target to deliver 95 000 housing units by 2019. Many mega housing projects that will have a catalytic impact on growth in the city are either in the pipeline or in the planning stages. An amount of R657 million was set aside for housing projects in the 2015/16 financial year – almost double the allocation for the previous period. This amount will be increased to R932 million in the next financial year.
These mega projects will provide opportunities for densification, mixed-use and transit-oriented development, linking economic opportunities to places of residence. The developments are grouped into seven nodes, spread out across the city from a spatial perspective and planned according to Gauteng's Transformation, Modernisation and Reindustrialisation programme.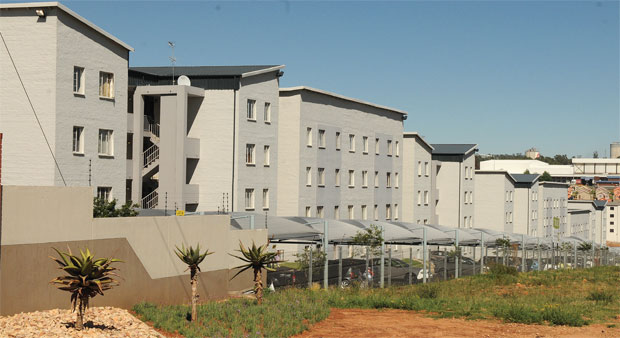 The seven nodes are:
Node 1 known as Lanseria City is located in the northern part of the city. There will be mega projects around Lion Park, in Diepsloot East, and Riverside View, Ext 28. This will yield 46 500 housing units and serve as a link between Johannesburg, Tshwane and the West Rand District Municipality.
 
Node 2 is located in the Johannesburg North West. Projects under way include Cosmo City and the Malibongwe Ridge development, which has been allocated a further R88.8 million in the current budget. The Zandspruit development in Honeydew will proceed once environmental constraints of the wetlands have been resolved.
 
Node 3 in the south of Johannesburg will see developments to further the city's densification plans. Projects in South Hills and Kliptown-Nancefield are already under way and Southern Farms and Ennerdale Ext 19 will follow soon. Together the project will yield more than 68 000 units.
 
Node 4 is focused on the Corridors of Freedom and the regeneration of the Johannesburg Inner City. This is currently in the pre-planning stage but will eventually provide 50 000 homes.
 
Node 5 is known as New City 2 and encompasses Alexandra and Modderfontein, linking the east of the city with Ekurhuleni. New developments in Rabie Ridge, Marlboro as well as several bonded houses are in the planning stage.
 
Node 6 links Johannesburg with Sedibeng and the West Rand to form New City 3. A total of 24 000 housing units are being built in Lufhereng and the envisaged development by the Gauteng province in Syferfontein will see the delivery of a further 60 000 homes. Issues relating to dolomite and acid mine drainage are currently being addressed.
 
Node 7 is centred on Fleurhof. Phases 1 and 2 are both already under development and will yield 18 200 homes while future plans for Goudrand Ext 4 are being investigated.
Source: City of Joburg