The National House of Traditional Leaders (NHTL) has embarked on a massive campaign to help communities affected by drought cope with water shortages.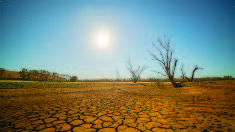 The House's executive committee members have also called on communities to pray and hold rain-making rituals in their respective areas as dam levels continue to drop in our water-scarce country.
In an interview with Vuk'uzenzele, Inkosi Sipho Mahlangu, the Deputy Chairperson of the NHTL, said after traditional leaders attended a Ministers and Members of Executive Council (MINMEC) meeting in November last year, they resolved to go back to their communities to play their role in mitigating the effects of the drought.
"We called on all executive committee members from the different provinces to come and deal with this issue of drought. One of the resolutions taken at that meeting was that we need to have prayer sessions.
"We need to call on people to come and pray for rain. We also agreed that people who have rain-making powers should conduct these rituals in different communities, which has been done.
"There are also other traditional leaders like Queen Modjadji who also have powers and who have been hard at work to make sure that we receive rain."
He added that one of the interventions would be to encourage people to sell some of their livestock.
"They should focus on quality rather than quantity. We know most Africans believe that if they have many cows, it shows they have wealth. But you find that because of drought, those cows weigh as much as a goat."
Inkosi Mahlangu said rural communities relied heavily on agriculture as a cornerstone of their economy. He said due to this, they were the most affected by the nationwide water shortages.
As water shortages gripped the country late last year, the Department of Water and Sanitation announced that it would deploy water tanks to affected communities and drill boreholes where possible.
At the time, the department was monitoring six provinces with regard water shortages, namely Mpumalanga, KwaZulu-Natal, Limpopo, North West, Free State and the Western Cape. Five provinces - Mpumalanga, Limpopo, KwaZulu-Natal, North West and the Free State – have since been declared drought disaster areas. Some parts of the Eastern Cape, Northern Cape and Western Cape are also severely affected.
"Drought affects mainly agriculture. People have not been able to plant and rural people usually don't bank their money, they usually [invest their wealth through buying livestock] so now you have livestock that is dying because of drought. You have areas that are overgrazed and once there is overgrazing, there tends to be soil erosion," he said.  
Inkosi Mahlangu added that communities have also experienced water shortages; people have been drinking with animals, but even those water sources are now becoming depleted.
He said food was becoming more expensive because most rural communities consume pap.
Amakhosi, Black Lawyers Association to work together on land claims
Meanwhile, Inkosi Mahlangu said all traditional leaders across all provinces where they are represented have agreed to a two-way approach to land claims.
This comes after President Jacob Zuma advised traditional leaders last year to work together to help communities with land claims instead of citizens focusing on their separate individual claims.
Addressing the NHTL last year, the President said Amakhosi would be doing a greater service to citizens if they assembled all claims, identified one legal team and a team of experts to research land that was dispossessed as far back as and before the 1913 land act was passed.
Inkosi Mahlangu said they had heeded the President's call and had engaged the Black Lawyers Association to assist them with claims.
He said they had signed a memorandum of understanding with the attorneys and are currently ironing out the terms of reference on approaching land claims.
"The second part of our two-pronged approach is to have a land summit where all traditional leaders will be invited and we come up with one united strategy.
"We agreed that either we would put in a single claim or … look at different provinces putting in a claim each per province…"
About the NHTL
The NHTL is made up of representatives from the Provincial Houses of Traditional Leaders of South Africa. It was established to:
  Represent traditional leadership and their communities;
  Advance the aspirations of the traditional leadership and their communities at national level;
  Advance the wishes of provincial houses, traditional leadership and their communities at national government level; and
  Influence government legislative processes at national level.
Seat of the House
The administrative head office of the NHTL is in Pretoria, where the head office of the Department of Traditional Affairs is located. Ordinary meetings/sittings are held in Parliament or the administrative seat. The executive committee of the House decides where special sittings/meetings are to be held, when and for what reason.
Presiding officers
The chairperson and the deputy chairperson of the NHTL are elected by the majority of members. The President of the Republic of South Africa or his/her delegate must preside over the election of the chairperson and deputy chairperson. 
Mandate of the House
The NHTL must fulfill the following:
The House must cooperate with Provincial Houses of Traditional Leaders to:
  Promote the role of traditional leadership within the Constitutional dispensation;
  Nation building;
  Peace, stability and cohesiveness of communities;
  Preservation of the culture and traditions of communities;
  Consider Parliamentary Bills referred to it by the secretary; and
  Advise the national government and make recommendations on any matter that the government may require.
For more information visit:
ww.nhtl.gov.za