Written by Noluthando Mkhize
Leratong Hospital's obstetrics and gynaecology department is a good example of what hard work and innovation can do for the health sector. The department took the first prize in the Department of Public Service and Administration's 13th Annual Centre for Public Service Innovation Awards, winning the Innovative Service Delivery institutions category for its One-Stop Shop Project.
Leratong Hospital, situated in Krugersdorp, is the secondary or level two-hospital for the West Rand district, meaning that patients that need to be referred from local clinics are sent there. The hospital serves about 1.5 million people, has 855 beds and six intensive care beds.
Dr Francois Lubbe, the head of the department, said they decided to make changes to the clinic to improve services by reducing unnecessary waiting times for patients seen at the Gynaecology Outpatient Department (GOPD).
The long waiting times were caused by a lack of co-ordination when it came to arranging appointments for patients.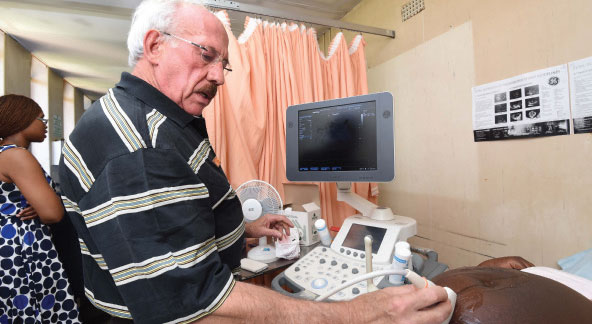 "The first patient that I wanted to schedule for a hysterectomy had to wait six months due to fully booked theatre lists," said Dr Lubbe. A hysterectomy is a surgery to remove a woman's uterus.
Turning the Tide in GOPD
Dr Lubbe said in 2013 when he joined the GOPD, patients were seen twice a week for all gynaecology-related problems. "This created chaos from a booking, staff and space point of view. Nothing is more frustrating and depressing for a specialist than entering the GOPD and finding 60 patients staring at you in anticipation."
He adds that in order to improve the GOPD, it had to comply with One-Stop Shop rules. These rules included patients not being given another appointment other than an appointment for surgery or a re-sonar in six weeks. "Follow-up visits would only be for re-sonar of chronic disease monitoring or be done at primary health care level," said Dr Lubbe.
He adds that another measure that was introduced was that all patients visiting the GOPD must be referred and consultations must be arranged on an appointment basis. This excludes emergencies. Dr Lubbe said to avoid wasting time, all referred patients visiting the GOPD must present their referral letter and a pap smear report no older than six months.
If a patient is HIV-positive, they also bring their latest CD4 count and their ARV medication. "These requirements need to be taken care of at the local clinic or primary hospital before visiting the GOPD, otherwise it results in another GOPD appointment which can mean another six weeks of waiting. This also means another taxi fare for patients, and patients waiting in another queue for a file."
He said his department continues to communicate with local clinics and general practitioners to ensure that patients visiting the Leratong GOPD have the right paperwork. "The number of patients visiting the GOPD is currently restricted to 30 per day of the two days that the clinic is open in a week."
He added that the GOPD's medical staff team consists of a gynaecologist, two medical officers, an intern and one nursing staff member for each doctor. When patients go to the clinic, they are examined in private and if a patient needs to be booked for surgery, it is done on the spot. "Two years ago, the waiting period for surgery was six months plus. Currently, we are looking at a waiting period of two weeks for surgery."
Working in a Well-Structured Environment
Dr Lubbe believes that working in a well-structured environment not only reduces stress levels and frustration for doctors and patients but also creates confidence. "It creates an atmosphere of competency and confidence which is noticed by patients. In turn, patients' confidence in the hospital and its staff improves."
He added that his One-Stop Shop is still a work in progress with its own hiccups. "We are still on a learning curve. The experience and results this far have been promising. There is an improvement in professional morale and job satisfaction as well as patient care."
The self-proclaimed perfectionist adds that his golden rule is limiting procrastination. "It should be an honour for health professionals to serve their country's public health system. When I was interviewed for the position of HOD in 2013, I said I would do my best to make Leratong Hospital's Obstetrics & Gynaecology Department the best in Gauteng. I sincerely hope this award will serve as an incentive to achieve even higher levels in the future."