A multi-million Rand road upgrade project is set to benefit thousands of community members in Lephalale, in Limpopo. The project, which was launched by Mayor Jack Maeko in December last year, will improve access to transport and efficient roads for 13 villages, allowing community members to move freely and safely in and around in the area.
Exxaro Grootegeluk Coal and Roads Agency Limpopo (RAL) awarded a tender to design the Ga-Seleka roads to Aurecon South Africa (Pty) Ltd. Community members living in anda round the villages of  Sefithlogo, Morwe, Botshabelo, Moong, Segale, Botsalanag, Kopanong, Kgobagodimo and Letlora will benefit from the Rietfontein Road ((D3102 and D3114) upgrade. The upgrading of Road D3109 will benefit residents from Kiti, Motsweding, Dipompong and Mokuruanyane.
Delivering the keynote address at the signing ceremony, Mayor Maeko thanked RAL and Exxaro for their contribution to infrastructure development. "The government needs the private sector to act in the best interest of the community. Everything is possible as long as we work together. This road project will create many employment opportunities and alleviate poverty," said Mayor Maeko. He urged the councillors and community leaders to communicate the progress to their constituencies. Exxaro Group Manager for Community Development, Ramesh Chhagan said Exxaro is committed to powering possibilities.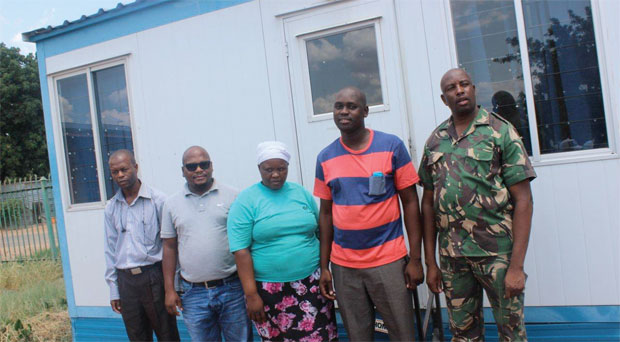 "The road will allow free movement of people and lead to the creation of various economic opportunities. We remain committed to making a meaningful contribution to the Lephalale community to ensure that we leave this place in a much better condition than we found it," said Chhagan. RAL CEO Petros Matji commended the project team for expediting the process to ensure there's notable progress on the project.
"To ensure skills transfer and local SMME empowerment, Aurecon will work closely with Exxaro, RAL and Lephalale Local Municipality during the design phase," said Matji.
In addition, labour intensive methods will be used during construction and this will benefit the large number of unemployed community members, mainly youth from the surrounding villages.
Going Back To Basics
As part of the Back to Basics campaign Mayor Maeko officially opened an information centre in Marapong recently. Through the centre community members no longer have to travel long distances to submit their CVs for the municipality's municipal database. "The municipality has taken the responsibility of ensuring that in all the economic developments around the area, local communities are prioritised when it comes to employment," said Mayor Maeko.  
Two community liaison officers have been appointed to help manage the information centre. The Back to Basics programme, launched by President Jacob Zuma in September 2014, aims to ensure that municipalities serve communities better by providing efficient access to basic services.