A partnership between the Industrial Development Corporation (IDC) and Ngwathe Secondary School, in Edenville just outside Kroonstad in the Free State, has helped the school to improve its matric results.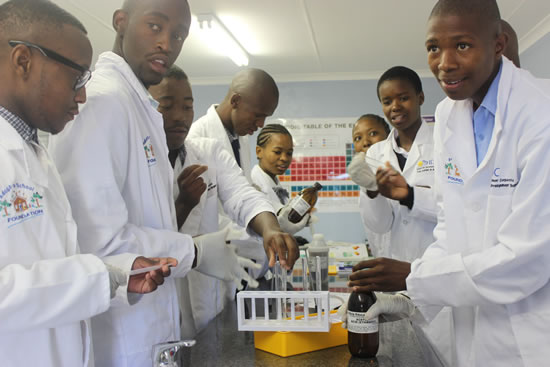 Since the IDC adopted the school in 2013, it has achieved over 80 per cent in its matric results. The school is one of the many in the country that have been adopted by the IDC under its Whole School Development Programme.
The Whole School Development Programme selects and injects resources and human capital into poor and underperforming rural schools across the country to assist the learners and teachers to reach their full potential.
School Principal Motshidisi Tumisi said since the start of the partnership between the school and the IDC in 2013, things have improved.
"There's a lot of changes since we started the relationship with the IDC. The first thing they did for us was to develop our teachers. This happened after we sat down with them in a strategic planning session and identified our needs and told them what we would like them to help us with."
After the strategic session the IDC adopted the school and undertook to do major changes. Among other things, the IDC developed teachers, built a science laboratory, introduced learners to the Cell C Take a Girl Child to Work Programme, donated sanitary towels to female learners and built a kitchen. 
The school currently has 388 learners. Of these, there are six Grade 10 classes, three Grade 11 classes and three Grade 12 classes.
For the past seven years teaching science learners was a challenge for mathematics and science teacher Frans Mmotong.
But since the laboratory was built, he looks forward to his lessons and he has seen the level of interest in his students rising.
"This lab has brought a lot of changes and it helps learners when it comes to experiments because before it was built, we were struggling to do experiments."
Grade 12 learner at the school Moleboheng Makhanye said the laboratory has made a big difference and she enjoys her science lessons.
"Since the IDC built the laboratory, doing experiments is simpler and enjoyable. I also look forward to the classes because we can see what we are talking about in real life. 
"When the teacher talks about sodium chloride, we can relate because it is something that we see."
Makhanye believes the presence of the laboratory will help her to realise her dream of becoming a medical doctor.
Makhanye's sentiments are echoed by her classmate, Palesa Nkomo, who said learning science has become more enjoyable.
"We do enjoy the lessons now, we no longer rely much on textbooks and doing things practically is effective."
She said on completing matric, she would like to study for a degree in medicine and specialise in cardiology.
With the IDC's Whole School Programme, Mmotong and his learners can now enjoy mixing chlorine, sodium and other chemicals