Written by More Matshediso
Youth matters
Youth development determines the future and should be the heartbeat of any developmental agenda, says Deputy Minister in The Presidency for Planning, Monitoring and Evaluation Buti Manamela.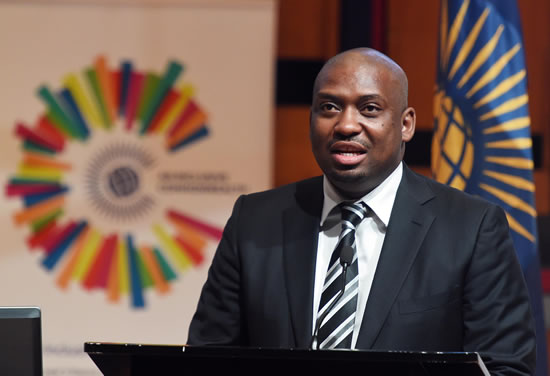 Speaking at the Second Commonwealth Conference on Youth Work in Pretoria recently, the Deputy Minister said the youth no longer want to be characterised as excluded, forgotten, marginalised or disadvantaged, because of policies that do not put them first. 
South Africa hosted the conference, which aims to empower youth to become agents of development and peace in their countries, through competence and professionalisation of youth work.
The conference hosted about 300 delegates from about 53 member governments and took place under the theme: "Engaging Youth People in Nation Building – the Youth Workers' Role".
"The youth want changes that open possibilities for them to improve their socio-economic status and quality of life. Regardless of whether they are from a developing or developed country, young people are affected by similar problems of marginalisation," said Deputy Minister Manamela.
He added that the time has come to put youth at the centre of sustainable national development, but this cannot be done without youth workers who play a role in ensuring that youth development is prioritised.
"This work cannot take place without effective youth development policy, programmatic initiatives, youth development research and effective youth workers.
"In South Africa, the process of professionalising youth work started officially in the late 1980s. A Youth Practitioners Advocacy Group was established in 1994, which later became the South African Youth Workers Association.
"The South African Youth Workers Association consulted and collaborated with the Professional Development of Youth Work Consortium to facilitate the professionalisation process," he added.
Development of professional youth workers
Commonwealth Secretariat Deputy Secretary-General Deodat Maharaj pointed out that the world was changing fast, and if many developing countries did not adjust, they risked being eclipsed in the new world order.
"However, to adjust, excel and advance human development in this new global disposition we need to leverage the sum total of all resources available to policy makers, the most valuable being human resources," said Maharaj.
He noted 70 percent of Africa's population was classified as youth.
"Young people are confronted with a range of challenges including high levels of unemployment, lack of access to quality education, rising crime and violence. In many of our member states, youth unemployment is still high," Maharaj noted.
He said investing in the development of professional youth workers would, at the levels of local and national government, bring together professionals with the right skills and competencies to enrich, equip and build a youthful future.
Learning from others
Another speaker at the conference, Vice Chancellor of Unisa and Principal Professor Mandla Makhanya, said youth work needs to be promoted and professionalised in South Africa by exploring practices from around the globe.
Prof Makhanya said youth in many parts of the world face challenges such as limited resources, more especially education, training, employment and other economic development opportunities.
In South Africa, government, Unisa, the Commonwealth Secretariat and other stakeholders are ensuring that youth work is mainstreamed across all ministries.
Commendable progress has been made in advancing youth development locally, but a lot still has to be done to remedy the situation facing the country's youth.
The Vice Chancellor said youth development has to become a feature in South Africa and beyond, because if youth are left in society's margins all in society will be impoverished.
Youth making a difference
One of the delegates at the conference, Miguel "Steppa" Williams from the Caribbean, who was the winner of the 2015 Commonwealth Youth Worker of the Year, spoke to Vuk'uzenzele about the work his foundation is doing for his community in Jamaica.
He said the foundation, the Professional Youth Work Association, runs a project targeting young people who are against the law and out of school, aged between 16- and 30-years-old. The foundation's work includes efforts to help build a cohesive nation.
"The main objective of the foundation is to reduce incidences of recidivism, improve life skills, training youth in product development, improving youth ability to matriculate to certified training, and improving relations between the police, youth and community," explained Williams.
Through the foundation, about 25 youth completed all their modules, eight were employed in social enterprise and 15 transitioned to certified training.
He added that the foundation has partnerships with police, civil society groups, international development partners and ordinary people.