written by Galoome Shopane
The spirit of Ubuntu is alive and well in the community of Mafora in Bloemfontein.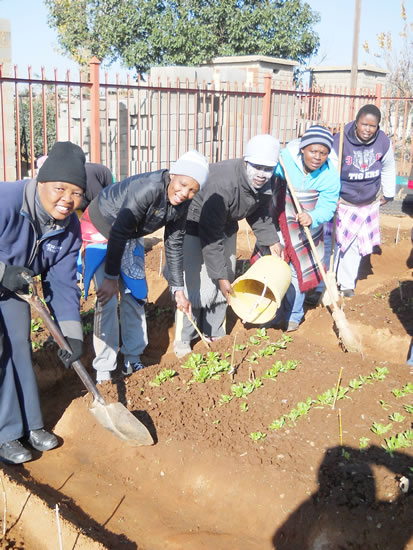 When the people of Mafora township, Bloemfontein, saw what an unsettling number of struggling elderly people and orphans lived in their community, they came up with Ikaheng Project in 2014.
Ikaheng means Build Yourselves Up in Sesotho.
This project aims to help alleviate hunger, foster community-based care and help eliminate unemployment.
Since 2014 the project has been receiving funding from the Independent Development Trust and the provincial Department of Public Works.  The three-year funding allows Ikaheng to pay a stipend to communitiy members working on the project.
Ikaheng consists of 60 community members who help other community members. Each of the 60 members get a stipend of R1 000 each month. Ikaheng project's manager Ashley Phuthi said they noticed that a lot of people in their neighbourhood, particularly the elderly and orphans, did not have access to good nutrition. Their solution was to start a food garden.
Ikaheng community members plant vegetables which they supply to over 30 households and also sell to raise funds.
"We were given a three-year contract for the project. This project helps a lot of people and gives work to many more.We want to continue helping people," said Phuthi.
"We also need help with food, because most of the people that we help don't have food"
Gloria Lavase (44) has been part of the project for almost three years. "Since I came here, there have been many changes in my life. I used to struggle a lot, but since I have joined the project I can give my children a better life with the little that I get from here."
"I sat at home for a long time without work, but now it's better because I can provide for my children. I'm very grateful for the project; it made me a woman amongst women," said Lavase.
Tankiso Molefe first received help with his wheelchair and is now part of the project to help others. "I would really love to receive art resources so that I can teach children art because I'm really good at drawing and painting," said Molefe.
Phuthi said they are struggling with funds, but helping others gives him joy: "Helping people is my love; it's my passion."
"Seeing someone smile makes me happy, it's not about getting something in return or anything like that. I've taken this project as my own child," he said.