Written by Dineo Lolokwane
The North West Department of Tourism is planning initiatives to invest more in tourism related events to attract people to the province.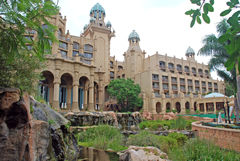 As result, the department will host an investment and trade lekgotla this month.
 "The aim and intention is to attract big business that will be given an opportunity to invest or give their inputs in terms of tourism growth in the province.
"Among others they will be encouraged to invest in villages, townships and small dorpies in the province," said North West MEC of Tourism Desbo Mohono.
She added that the ultimate goal is for the province to host the upcoming World Tourism Conference.
"We have state-of-the-art facilities and enough rooms to accommodate thousands of tourists. It is now time to showcase our potential as a province. We must show the world that the North West province is also capable of hosting international events."
 According to MEC Mohono, activities planned for tourism month will also add to the province getting a bigger share of the cake in the industry. The theme for Tourism Month this year is "Tourism for all".   
* Dineo Lolokwane works for the North West Department of Tourism.