From an early age Ntshepeng Mofokeng (34) always wanted to be the owner of a business. After completing matric she considered a career in music and tried her luck in the retail and banking industries but the urge to become a businesswoman remained.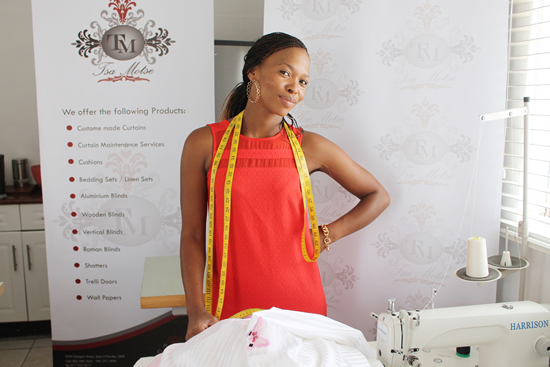 "Even when I was working, the dream of owning my own business was still there. After I left the bank and I started to think seriously about making my dream a reality," said Pimville-born Mofokeng.
Once she had decided on the type of business she wanted to run, she approached the National Youth Development Agency (NYDA) for assistance with funding.
"I was very skeptical about the NYDA because of the stories that I'd heard about them.
"I must say, so far, they've proven me wrong and the assistance and guidance I got from them have been wonderful."
Her business, Tsa Motse Lifestyle Concepts, was given a grant funding of R50 000 as a start-up.
"I was very happy, in fact I was extra happy when my business was chosen because it showed that I was on the right-track and was doing something right."
Mofokeng's business creates curtains, cushions, blinds, bedding and also does interior design. She currently employs four people, two on a permanent basis and two as temporary workers.
"My target market is mostly private individuals, new homeowners, the hospitality market – especially big hotels. That's the direction I want to take this business in." Mofokeng added that she has plans to expand into other markets.
She said one of the major challenges she faces as a small business owner is competing with well-established brands in the textile industry.
"It is a serious challenge but we try by all means to offer our clients a unique experience. We even offer to wash the curtains for our clients and we offer a high level of professionalism and reasonable prices."
Mofokeng said she would like to see her company grow and create more jobs in the future. 
www.tsamotse.co.za
Tel: 011 933 3617
E-mail: ntshepeng@tsamotse.co.za