Residents of Ncera village outside of East London are benefiting from a macadamia farm project recently launched in the area.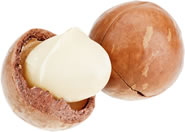 Macadamia are edible nuts.
Indibano Projects, an initiative that aims to empower women and youth in rural Eastern Cape, is spearheading the expansion of macadamia plantations.
The expansion is being implemented at the AmaJingqi traditional locality in Willowvale, under Chief Dumalisile.
"We joined EC Macadamia, that was already working in Ncera Farms as fundraising partners, for the extension of the macadamia project in Eastern Cape. We're fundraising for everything new as far as macadamia plantations in the province," said Lindiwe Hendricks founding member of Indibano Projects.
The 300 hectare Ncera site produces 50 000 tons of macadamias a year.
"This year the yield has grown to 80 000 tons and Ncera site has been hailed as the best site in the country in terms of the quality of nuts it produces," said Hendricks.
In the Pondoland area, Indibano is investigating areas most suitable for macadamia plantations.   
Rural people, particularly women and youth, have been empowered with skills they previously lacked, Hendricks said.
"My satisfaction comes from the fact that I see lives changing. I see women that had no hope running orchards …. That makes me so proud."
She added that the success of the current macadamia nut projects illustrates that wealth creation is possible in rural areas.
"We have responsibility to pull people out of poverty and make sure that there is wealth creation in the rural areas, to stop this massive migration of kids wanting to go to cities."