NSFAS 2019 applications open
The Minister of Higher Education, Naledi Pandor, says it is all systems go for next year's applications for funding.
Are you a matriculant who might need financial assistance in your first year of higher education learning?
Higher Education and Training Minister Naledi Pandor has announced that the 2019 National Student Financial Aid Scheme (NSFAS) applications for new applicants opened on 3 September 2018.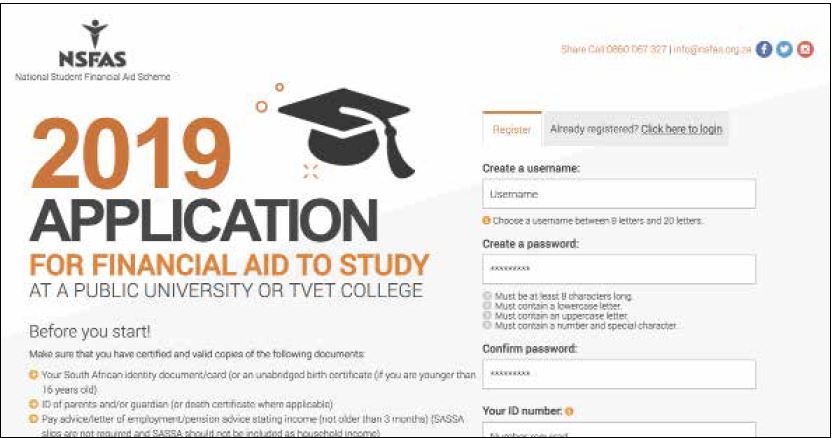 New applicants are urged to apply on the improved online application system known as MyNSFAS Online. The new system aims to improve the time that users take to apply for funding.
After the completion and submission of their applications, learners will receive SMS notifications confirming that the applications were captured successfully.
Once a student has applied to NSFAS there is a waiting period of about week. Should a student not receive any acknowledgement, they
are requested to call NSFAS's TOLL FREE Call centre on: 08000 NSFAS (67327).
Meanwhile, NSFAS has announced progress made in resolving the of disbursing outstanding funds that are due to students. It said in a statement that the following steps had been taken:
■  NSFAS has deployed staff to all institutions to facilitate the process of addressing the bottlenecks that have resulted from a range of factors.
■ The necessary funds are available and steady progress is being made in providing support to  qualifying students.
■  NSFAS has welcomed the support from institutions and student representative councils at universities and TVET colleges in clearing bottlenecks to the disbursement of funds.
■  The support of the in   stitutions and SRCs has been to assist NSFAS to ensure that students have completed and signed the necessary agreements.
Students are urged to sign outstanding NSFAS Bursary Agreements to ensure that their 2019 applications proceed smoothly.
Minister Pandor also called on all students to make sure they inform NSFAS of their change of contact details, particularly cell phone numbers, as this is the primary communication tool to inform students of the disbursement of funds.
For more information log on to https://my.nsfas.org.za/mynsfas/selfservice.html