South Africa and the United Kingdom have identified key sectors for investment aimed at boosting economic growth and development.
This was after President Cyril Ramaphosa recently hosted UK Prime Minister Theresa May at Tuynhuys in Cape Town.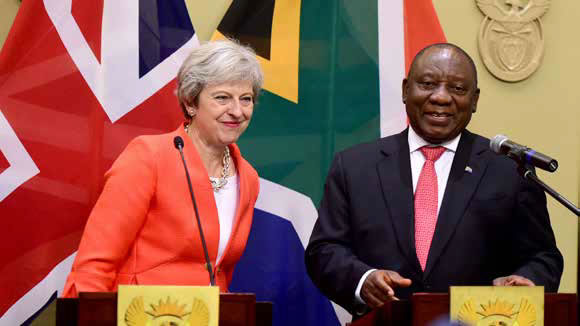 Prime Minister May was in South Africa on a working visit.
The Prime Minister's visit to South Africa and other African countries was seen as a push to cement ties with countries outside the European Union as Britain prepares to leave Europe's trade bloc by March next year.
President Ramaphosa said during the talks between the two countries, the parties reviewed a range of issues of a bilateral, continental and global nature.
"In our official talks, we noted the increased economic cooperation and trade relations between our countries. Both our countries have identified key sectors for investment to boost economic growth and development.
"These sectors include manufacturing, agro-processing, infrastructure development, mining, energy and tourism.
The UK was South Africa's sixth largest global trading partner in 2017, with total trade at R79.5 billion.
The UK also remains the key source of long-haul tourism to South Africa, with nearly
448 000 visitors in 2017.
Prime Minister May said the UK's aim was to be the number one G7 investor in Africa by the year 2022.
She said the UK was in full support of South Africa's drive to attract investment of US$100 billion to create jobs and bolster growth.
"I want to see British companies play a central role in helping [South Africa] achieve your ambitions, helping to create and sustain high quality jobs for the people from both our countries," she said.    
 SAnews.gov.za