Written by Thandeka Ngobese
Mhlonipheni Zulu, a former timber harvesting foreman, always knew that he would have his own business one day.
In 1999, Zulu, who had valuable work experience in the industry and was inspired by the black economic empowerment (BEE) opportunities that arose in the sector during this time, decided to start his own harvesting business.
He registered his business under the name Siyawisa Hlathi CC and based it in Mtubatuba, KwaZulu-Natal. At first, Zulu was subcontracted to his previous employer to do timber harvesting.
In 2005, a real opportunity arose when Siyawisa Hlathi was awarded a three-year timber harvesting contract by SiyaQhubeka Forests, a BEE company with Mondi shareholding which operates 25 000 hectares of prime commercial forestry land in KwaZulu-Natal. While this was good for the company, Zulu had no capital to do the job. He then decided to go to Ithala Development Finance Corporation Limited to ask for assistance. Ithala gave him R9 000 to buy equipment.
"Although the money from Ithala helped, I had to add to it by selling my cows to buy other things that were needed by the business," he added.
Zulu said a second contract followed in 2008 for the harvesting and short hauling of 60 000 tons per annum. In 2011, another contract was awarded to harvest and haul timber at the SiyaQhubeka plantations in the Dukuduku and Nyalazi areas of Mtubatuba.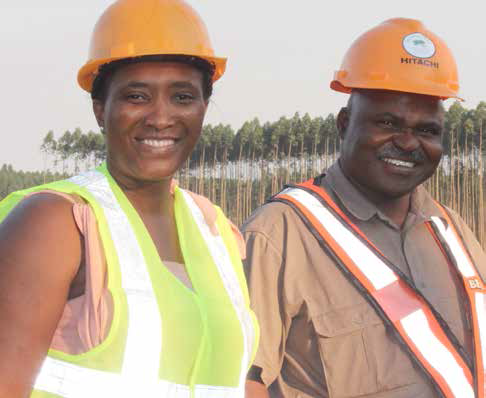 "The previous contracts were predominantly manual harvesting but the new contract demanded more than my semi-mechanised capabilities offered. Mondi and SiyaQhubeka took a decision to introduce 100 per cent mechanised timber harvesting systems in their plantations to improve safety in the timber industry, increase productivity and enhance opportunities for workers to become skilled operators.
"I went back to Ithala for assistance. As a long-standing client of Ithala with a good track record, the company assisted with a loan of R7 million to purchase equipment to replace my semi-mechanical system," he said.
Zulu had 300 workers while the business was doing manual harvesting. But with the introduction of machines, he has 40 permanent workers.
He is now working with his wife Nkosingiphile, a former teacher, who manages the office administration while Zulu is responsible for the overall management of operations.
"To work with my wife helps a lot because she is always there for the business," he said.
Nombuso Biyela (37), a female machine operator at Siyawisa Hlathi, said she enjoys her work because it helps her to provide for her family.
"Our employer is a very humble and understanding person who cares for the wellbeing of his workers. When we are here, we do not feel that we are at work. This place is more like home," she said.
Zulu's advice to aspiring business people is to work hard.
"Be hands-on in your business. Starting a business is like raising a baby; it needs you all the time. Do not use money intended for the business for your personal needs. Business money is for business and your salary is for your needs," he said.