Written by More Matshediso
Sport, arts and culture
Recently, South Africa has experienced a wave of racial tension on a number of social media platforms. This has caused some discomfort for many as this deters South Africa from being a united rainbow nation.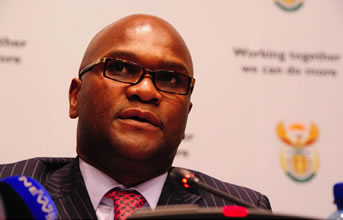 In light of this, Arts and Culture Minister Nathi Mthethwa recently met with social cohesion advocates in Johannesburg to discuss ways to strengthen nation-building and social cohesion, and address racism in the country.
Minister Mthethwa said it was important for the country to take stock of the progress it was making in building a non-racial, non-sexist and democratic South Africa.
"In recent weeks, we have seen that much remains to be done to build non-racialism in particular," said Minister Mthethwa, following recent racist incidents that were widely reported on in the media.
He said citizens should not be distracted from building a non-racial South Africa.
"Building a non-racial society is not an easy task. It requires a change in mind-sets, a willingness to think, to understand the basic dignity of all people and a commitment to equality and inclusivity in pursuit of a better life for all," said the Minister.
Social cohesion advocates are a group of South Africans who play a prominent role in building a nation that is caring, dignified and one in which there is mutual respect for fellow South Africans and humanity.
Social cohesion can be defined as the willingness of members of a society to work together in order to survive and prosper.
At the meeting, social cohesion advocates said it was time to move beyond just condemning racism and hate speech, and instead mobilise society and root out racism, starting at  grassroots level.
They represented various sections of society, including leaders from the religious sector, business, creative arts, youth and others.
Judge Yvonne Mokgoro went through 12 recommendations of the social cohesion advocates' five-year plan. The plan was developed in line with the first five-year implementation phase of the National Development Plan (NDP) as well as the Medium Term Strategic Framework.
The aim of the plan is to achive long-term nation building goals. The recommendations are:
The social cohesion advocates' 12 recommendations:
To mobilise society in its entirety towards nation building. This is to ensure that South Africans – young and old – are aware of their constitutional rights and responsibilities and encourage active citizenry. The plan recommends that schools serve as the nerve centre for promoting the South African Constitution.
To work towards implementing the recommendations of the NDP as a long-term vision that will serve as a basis for partnerships across society .
To ensure that social cohesion and nation building underpins all national, provincial and local government strategic priorities. This will help to position social cohesion as a major contributor to strengthening and encouraging active citizenry. An active citizenry will ensure that government achieves on its priorities.
To promote and preserve all indigenous cultures and knowledge. This recommendation aims to encourage interaction between elders and the youth to help bridge the knowledge gap on the country's history. It is hoped that this will also increase tolerence between South Africans.
To accelerate change in improving the quality of life of all people – especially the youth, women and people with disabilities. This is to ensure that South Africa is a more inclusive society.
To continue to build capacity to drive the socio-economic agenda in the country. This includes ensuring that young people and women participate and grow the economy.
To continue to fight any form of discrimination that is a threat to social cohesion and nation building. This is to unify all South Africans, promote solidarity, unity and strengthening national identity.
To repect human dignity and equality, and expand national heritage and promote freedom. The aim of this recommendation is to instill positive values within communities and encourage South Africans to treat each other with dignity and respect.
To expand existing national heritage and other honours and awards to recognise individual, organisations and ocmmunities who have contributed significantly to social cohesion.
To develop a Nation-Building Project Management Manual and Toolkit for application by practititioners at all levels and to convene Social Cohesion and National Builidng Summits at provincial, local and community level within the next 12 months.
To convene a National Social Cohesion Report Back and Monitoring Summit and thereafter at five-year intervals to report on progress.
To develop a detailed plan arising from the proposals made during the Summit, to be presented to the President.
She said it was important to include the participation of all in society if South Africa wanted to realise a cohesive society.
"We have to ensure that social cohesion and nation building underpin all national, provincial and local government strategic priorities," said Judge Mokgoro.
Singer and social activist Simphiwe Dana said for the past 22 years South Africans had not really been responding to racist remarks or actions as much as they seemed to be doing now.
She said people were no longer afraid to confront those who commit acts of racism.
Dana called on the advocates and social activists to facilitate the process that would see South Africa moving forward in the right direction.
Faith Mangope, who is a TV presenter, said if government and institutions want to target youth, they should speak to them in the language they understand and they should also understand youth culture.
"There is a misconception that young people are not interested in issues affecting society or that they are apolitical," she said.
Struggle icon and social cohesion advocate Sophie Williams-De Bruyn said all must put shoulders to the wheel if South Africa is to realise the social cohesion ideal.
"We must bring all our races together, no one should be left behind. Those who want to come with us must come. We will drag them, pull them and walk with them. Those who want to stay behind will be left on the roadside," said the 77-year-old De Bruyn.
"I feel that it starts with ourselves. The beginning is ourselves. We must really penetrate ourselves and look deep into ourselves to eradicate everything about racism and divisions within our society," she said.
It is hoped that the meeting will contribute to charting a way forward for the development of sectoral and national plans to build social cohesion, combat racism and eradicate discrimination in South Africa.
For more information on the work of the Social Cohesion Advocates visit: www.20yearsoffreedom.org.za