Written by More Matshediso
This year's National Orders ceremony forms part of celebrating South Africa's 25 years of democracy and freedom.
Director-General in The Presidency, Dr Cassius Lubisi,told Vuk'uzenzele that the country continues to recognise people for the various roles they have played in changing the nation and the world for the better.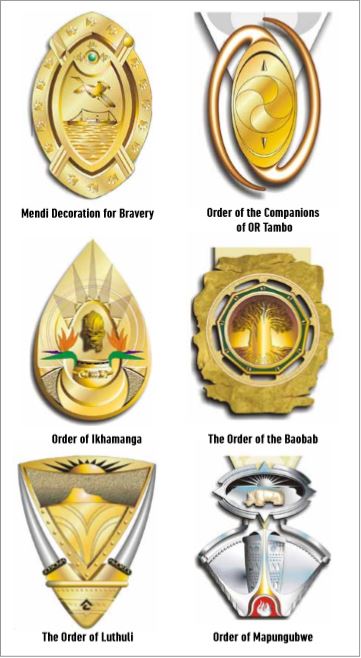 National Orders are the highest form of recognition that South Africa bestows on deserving citizens and foreign nationals.
The President of South Africa, as the Grand Patron of the National Orders, presents the awards each year.
"This year is our silver jubilee. It is a big celebration, and the National Orders this year reflect what we have achieved in the past 25 years," he explained.
"The National Orders will continue to be bestowed on anyone who is deserving, on those who do outstanding work for the country and those who advocate for peace and fight for social justice across the world," he said.
National Order recipients
Two-time President of Madagascar Didier Ratsiraka was presented with the Order of the Companions of OR Tambo in Gold by President Cyril Ramaphosa at the National Orders investiture ceremony at the Union Buildings on 25 April.
Ratsiraka was instrumental in helping the liberation movement in its fight against apartheid.
"He offered the liberation movement a national and international platform through his country's national television and radio stations," said Dr Lubisi.
Thirty awards were bestowed on the day. Some of the recipients included veteran actress Nomhle Nkonyeni and journalist Mathatha Tsedu along with retired dancer Johaar Mosaval, all of whom received the Order of Ikhamanga in Silver.
Braam Jordaan, Constance Mirriam Thokozile Koza (Posthumous), Bongani Donald Mkhwanazi (Posthumous), Ray and Dora Phillips (Posthumous) and William Smith received the Order of the Baobab in silver. 
 
South Africa's six National Orders 
The Order of Mapungubwe
The Order is awarded to South African citizens who have accomplished excellence and exceptional achievements to the benefit of South Africa and beyond.
The Order of the Baobab
The Order is awarded to South African citizens who have made exceptional and distinguished contributions in community service, business and the economy, science, medicine and technological innovation.
The Order of Luthuli
The Order is awarded to South African citizens in recognition of outstanding contribution in the struggle for democracy; nation-building; building democracy and human rights; justice and peace as well as for the resolution of conflict.
The Order of Ikhamanga
The Order is awarded to South African citizens who have excelled in the field of arts, culture, literature, music, journalism and sport.
The Order of Mendi for Bravery
The Order is awarded to South African citizens who have distinguished themselves by displaying extraordinary acts of bravery through which their lives were placed in great danger or who have lost their lives.
The Order of the Companions of OR Tambo
The Order is awarded to eminent foreign nationals for friendship shown to South Africa.