Written by More Matshediso
Many more motorists around the world will be driving Nissan vehicles produced in South Africa.
President Cyril Ramaphosa officiated over the Japanese automotive giant's announcement of a R3 billion investment at its Rosslyn plant in the capital.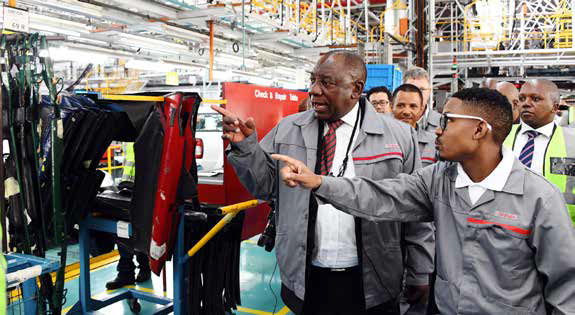 "It is a matter of great pride for us that many more motorists around the world will be driving vehicles that bear the industry and craftsmanship of South African workers," said the President at the official ceremony held recently.
The investment follows South Africa's inaugural Investment Conference in 2018. At the conference, South Africa announced that it wanted to raise R1.4 trillion over the course of the next five years.
Welcoming the investment, the President said many may have dismissed it as a "pipedream that "would never happen". However, the country is "proving them wrong" in the drive to raise the funds.
Nissan also invested R150 million in the training and upskilling of workers, which will prepare them for the future of work in an era of technological advancement.
 "In this era of technological advancements and the Fourth Industrial Revolution, we must be deliberate in making the necessary investment to preserving jobs as well as creating more jobs," said the President.
Artificial intelligence, he said, must not be seen as being job destructive but as an advancement that can create jobs.
Jobs and local content
 Nissan, which has been in the country over the last 56 years, will add a further 1 200 full-time jobs across the value chain with the start of the production of the new Navara for the local and continental market.
"We see Africa as [a place] we can make a real contribution to and improve the lives of the people who live here through industrialisation," said Nissan Africa's Managing Director, Mike Whitfield.
The production of the vehicle will initially include a 35 percent local content element, which will be ramped up to reach 60 percent local content in total.
"This will generate an estimated R5.8 billion new economic value every year in the immediate region," said Whitfield.