A group of Kimberley learners earned gold at the Special Olympics, proving that will and determination can help you conquer challenges and reach for the stars.
A special schools' team from the Northern Cape overcame great odds to become world champions at the Special Olympics World Games in Abu Dhabi in March. Playing against teams from some of the world's best footballing nations, the Northern Cape unified football team triumphed, winning 4-1 in the final against Spain.
The team received R40 000 in funding from the Northern Cape Provincial Government and when they jetted off to Abu Dhabi.  Many of the team members had never flown before.
 "This remar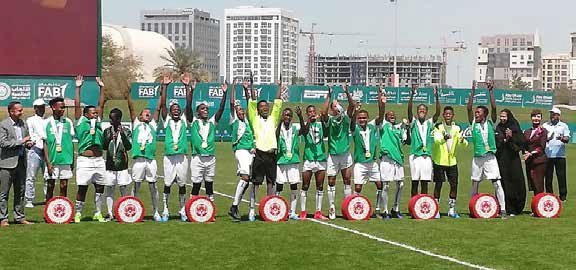 kable achievement showcases that our learners can perform at any level of competition with the rest of our country and the world, whether in public schools or special schools. They have shown that the Northern Cape has undiscovered talent which must be supported, so that learners can reach their full potential," said Northern Cape Premier Sylvia Lucas on the team's return to Kimberley on 22 March.
"We are extremely proud of the team and grateful for the management and guidance provided by the team managers, coaches and support systems. The team has risen above all odds, faced many challenges and came out on top."
The team was made up of pupils from Boitumelo Special School, Technical High School and Boys' High School. Pupils at the schools have learning difficulties, autism and other non-physical disabilities. They competed against 14 other teams in division three.
The team's coach, Lebogang Diutlwileng, said that it was a wonderful achievement for a small team from South Africa to emerge as champions.
The team was joined at the tournament by officials from the provincial Department of Sport, Arts
and Culture, who provided support and encouragement throughout the team's winning journey.
Hundreds of Northern Cape residents, along with government officials, were at the airport to welcome the team home – the boys proudly wearing their gold medals.
Captain Ethan Molatlhegi said that he was overwhelmed by the support received from the community and government.
Held since 1986, the Special Olympics World Games is the largest event of its kind, with 53 000 athletes competing in 23 sports.